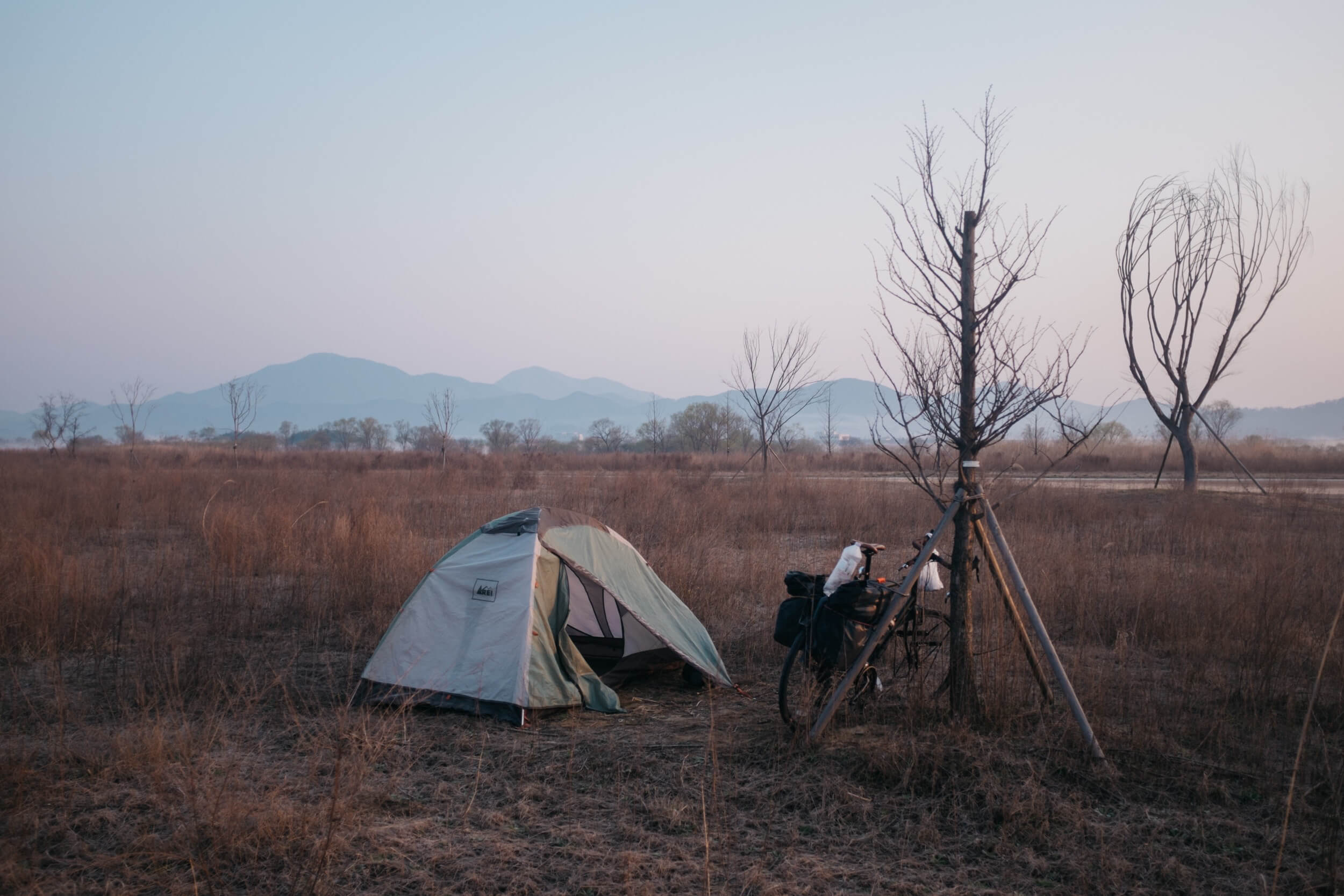 The sun is going down and I can hear a few dogs barking in the distance. My tent is rustling in the wind slightly but hopefully i've picked a good enough spot and won't have to uproot myself like last night. Though the miles i'm cycling have become almost routine, and i'm comfortable putting up my tent and cooking something basic, i'm still not an expert at figuring out the best place to camp. Reading the wind, finding an appropriate spot based on the conditions and what's going to be most effective rather than what looks comfortable and convenient is something i'm yet to master.
It's my penultimate day of cycling, on this route at least, and I fit in 50 miles before setting up camp. Leaving somewhere between 30 and 50 left to cover tomorrow – plus 10 to 15 to get me from the official finish line of the route, to where i'll be staying, near Haeundae Beach in Busan.
The area i'd camped in last night was deep in fog this morning as I emerged from my tent at around 7. It was damp but must have stopped raining early on in the night. Though (again) reluctant to leave the warmth of my sleeping bag and crawl out of a wet tent I pack my things as quickly as I can and eat the only thing I had left for breakfast – a chocolate bar with 'Have A Dynamic Time' written in sporty italics on the side.
I can't feel my fingers the first half an hour, my two glove optiions being my half-finger cycling ones, and my now-damp wool ones. I make a mental note to buy a better pair. Luckily the sun came out early on, and the first couple of hours passes fine until I reach a 13% climb which lasts for several tough bends. Along the grey concrete beside the road is a bunch of graffiti etched into the dirt. In the pain I was in it felt a strange place to pronounce your love for someone.
I crossed a large bridge after the downhill then kept a steady pace on the flat section beside the river until it terminated at a small mountain which was attracting Sunday morning visitors. I looked at a sign which said YoungAji Observatory and made the mistake of getting off my bike and following the wooden steps up to the peak. It was only a few minutes walk, but it was steep and my legs were tired and it hit me how little i'd eaten and how low my energy was. The view wasn't even worth it. I ran back down and got back on my bike.
Waiting just around the corner was the most ridiculous uphill i've encountered so far. Though it's remarkable how the cycle route literally runs the length of the country at this point they should have given up. In my weakened state it looked near vertical, and I guessed by looking at my map it would carry on for a while. Whilst the reward of the view might have been worth it I doubled back on myself and joined the main road, which looked like it would skirt around the outside of the mountain. To begin with I felt i'd made a mistake as I hit a climb after only fifteen minutes. But thankfully it was just one bend, and over quickly with a downhill all the way to the next city, Namjiri, where i'd stock up on much needed calories.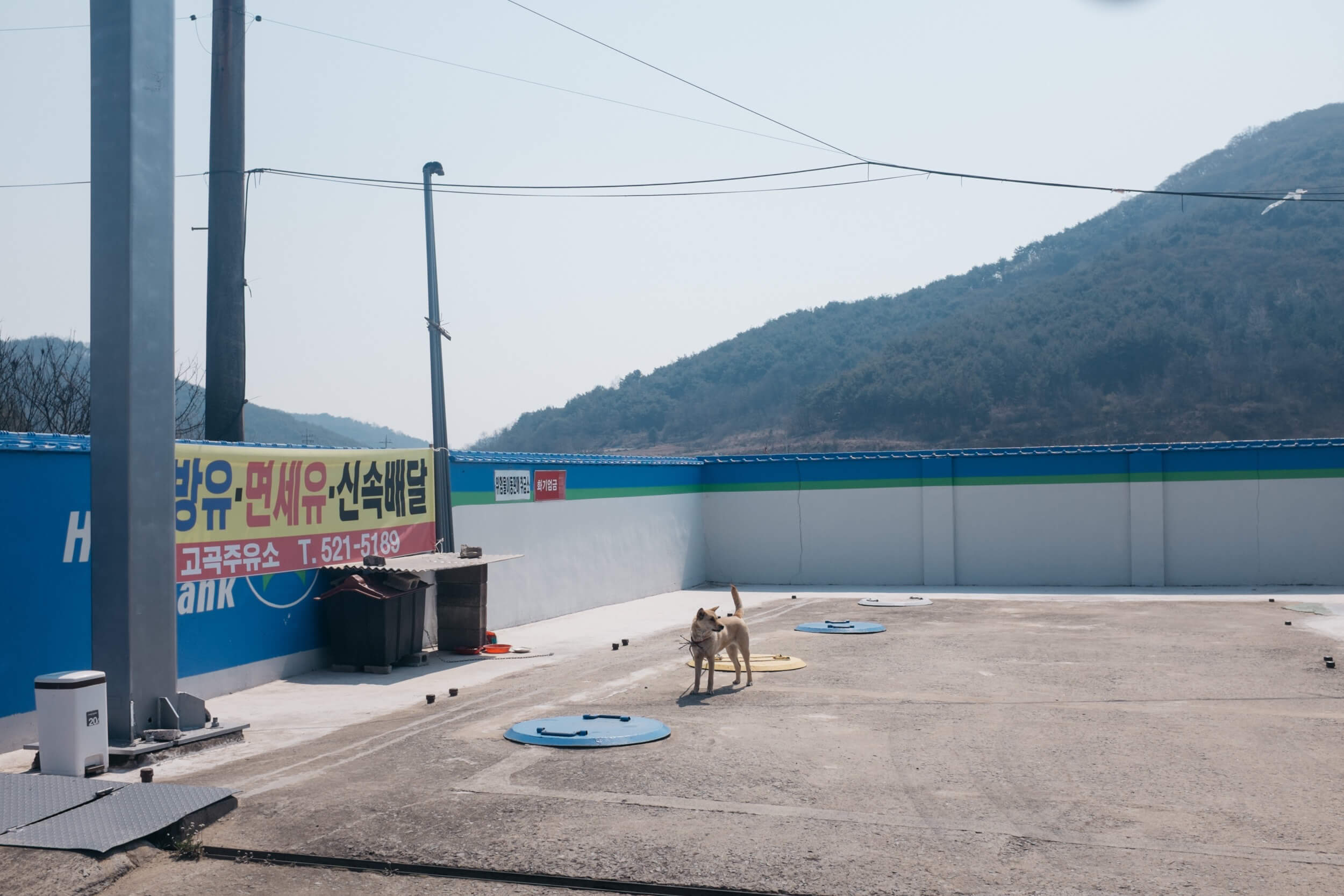 My diet has been pretty terrible this week. Instant noodles, chocolate, energy drinks. If i'm going to do this longer term I need to figure out a way to keep myself going in a more healthy and considered way. I'm probably burning off whatever i'm eating, but I don't feel great about it, and arriving sweating at a 7-11 and blowing £10 on junk doesn't look good either.
I stop on the edge of Namjiri at a corner store with a table outside in the sun. I buy my usual pile of snacks and sit outside charging my phone, GoPro, and camera which have all decided to die at the same time. A man sits on the other side of the bench facing the street and talks to his dog. On it's collar are the words "My Dog. My Love" repeated.
I stop for an hour or so, it's longer than i'd like, but I need to do nothing for a bit. Eventually I get up and fumble along through the edges of the city, my chain comes off and I drop my handlebar bag twice, and get frustrated as I cross the bridge out of town. It seems like a functional, simple place. Korean cities outside of Seoul seem compact and people piled into hi-rises, leaving miles of green parkland open nearby.
The next couple of hours pass smoothly. The parks are neat and pretty out of the city, a lot of people are out enjoying the sun. The path carries on through the park, rejoining the road for a few bends around the mountain, and then crossing a bridge where it forms a path again. It runs alongside the edge of a town which is either half-finished or only half-started and I see around eight white dogs in someones backyard.
Again i'm not going to make it to more than 50 miles. My legs are giving in and I pass along an area which would looks good to camp in so I decide to call it a night. It felt like a fairly unremarkable day – a transition, filling the gap between city and the countryside as the surroundings very slowly become more urbanised and developed again. It's my fourth night camping in a row, not much for some, but a personal record for me, and it shows in the dirt on my hands and the notifications piling up on my phone. I'm looking forward to the final stretch to Busan tomorrow and some comforts again. Then to decide where to go next, and how i'll be getting there.
Playlist
Future Islands – A Dream of You and Me, Aix Em Klemn – The Luxury of Dirt, Jesu/Sun Kil Moon – Good Morning My Love
Map
0