Thursday, August 24th
It's always hard riding (and writing) again after a break. Even a day can mess it up and It's been roughly 20 since I finished riding in America. And by the time I've retrained the muscles that I can already feel have lost definition, I'll be home, and I might not need them again in a while.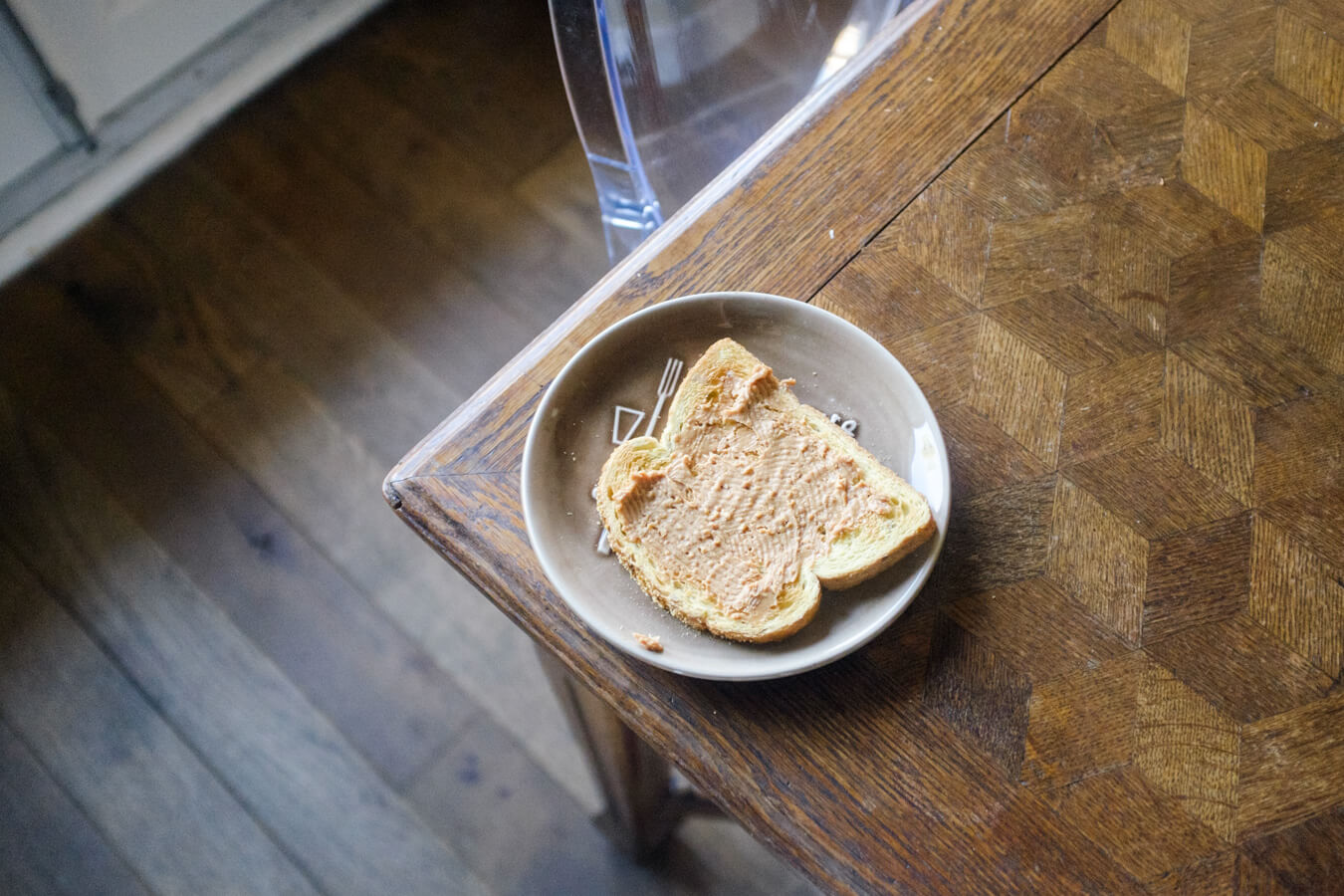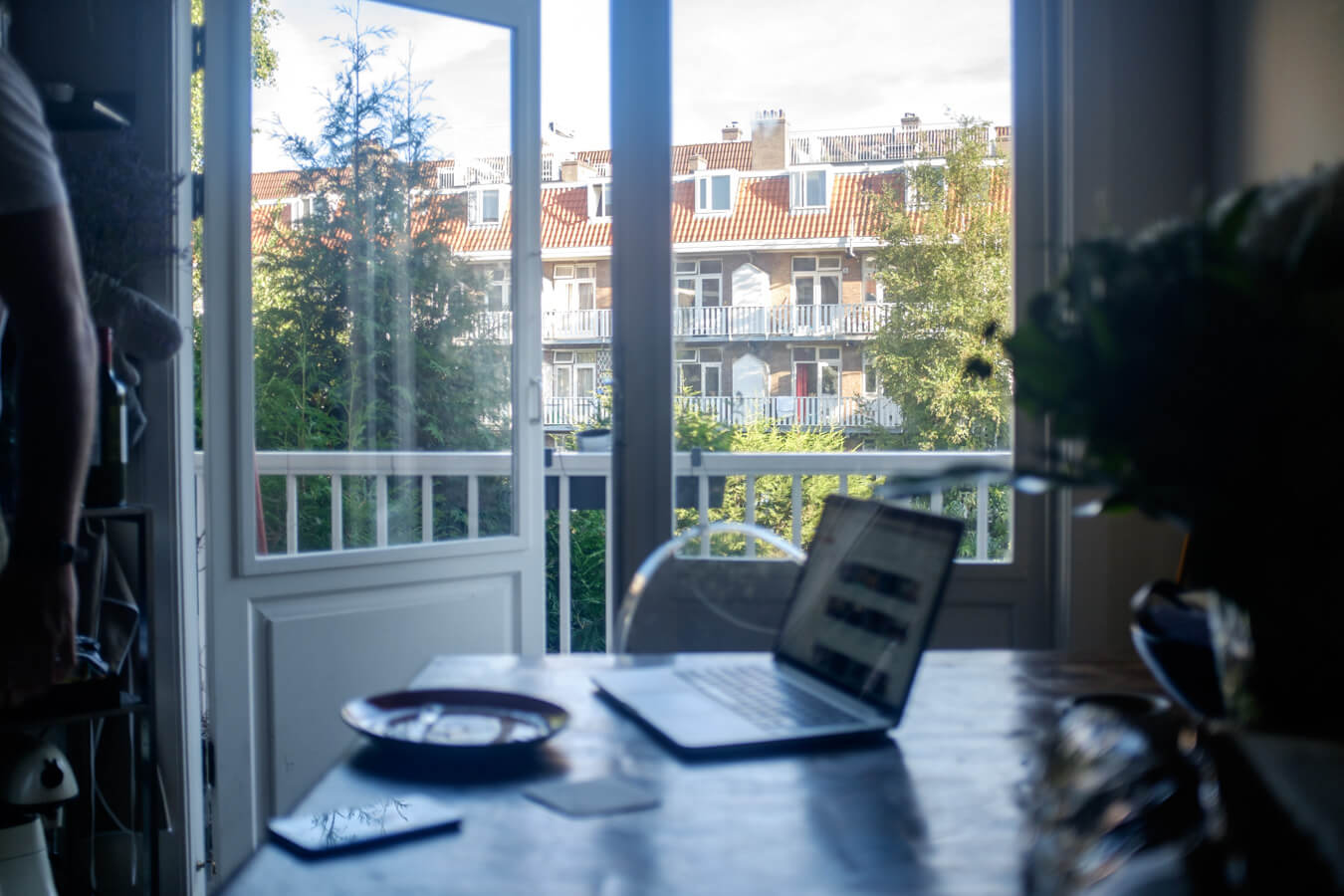 This is the final stretch – from Amsterdam to England, via coastal bits of Holland, Belgium and France. My plan is to loosely follow the sea around to St Malo or Cherbourg where I'll take a ferry to Portsmouth. It's something like 500 miles and I'm not expecting it to be the highlight of the trip, but perhaps I'll be surprised. I know I've been spoilt with everything I've seen so far – it's hard to get excited about seaside France when you've cycled over the Rockies and around Mt Fuji.
Today had some pleasant surprises but was also very tough. Physically tough because it feels like I've done very little for two or three weeks apart from sit around drinking coffee and beer and eating burgers and pizza. And mentally tough because I've had the company of friends for more than two weeks in a pleasant domestic setting in a beautiful cosmopolitan city. The idea of cycling on my own – especially through semi-industrial sad European towns where I don't understand the language, has lost some of its charm. I feel quite alone and I have no idea how I managed to do this before. I'm telling myself I'm just tired – despite the copious rest I've had, and that a couple of days on my bike, and nights in a tent, will get me back to 'normal'. But now it feels very unnatural, despite being surrounded by so many cyclists. Everyone cycles in Holland. And the cycle paths which exist in and around Amsterdam seem to extend across the whole country, at least so far.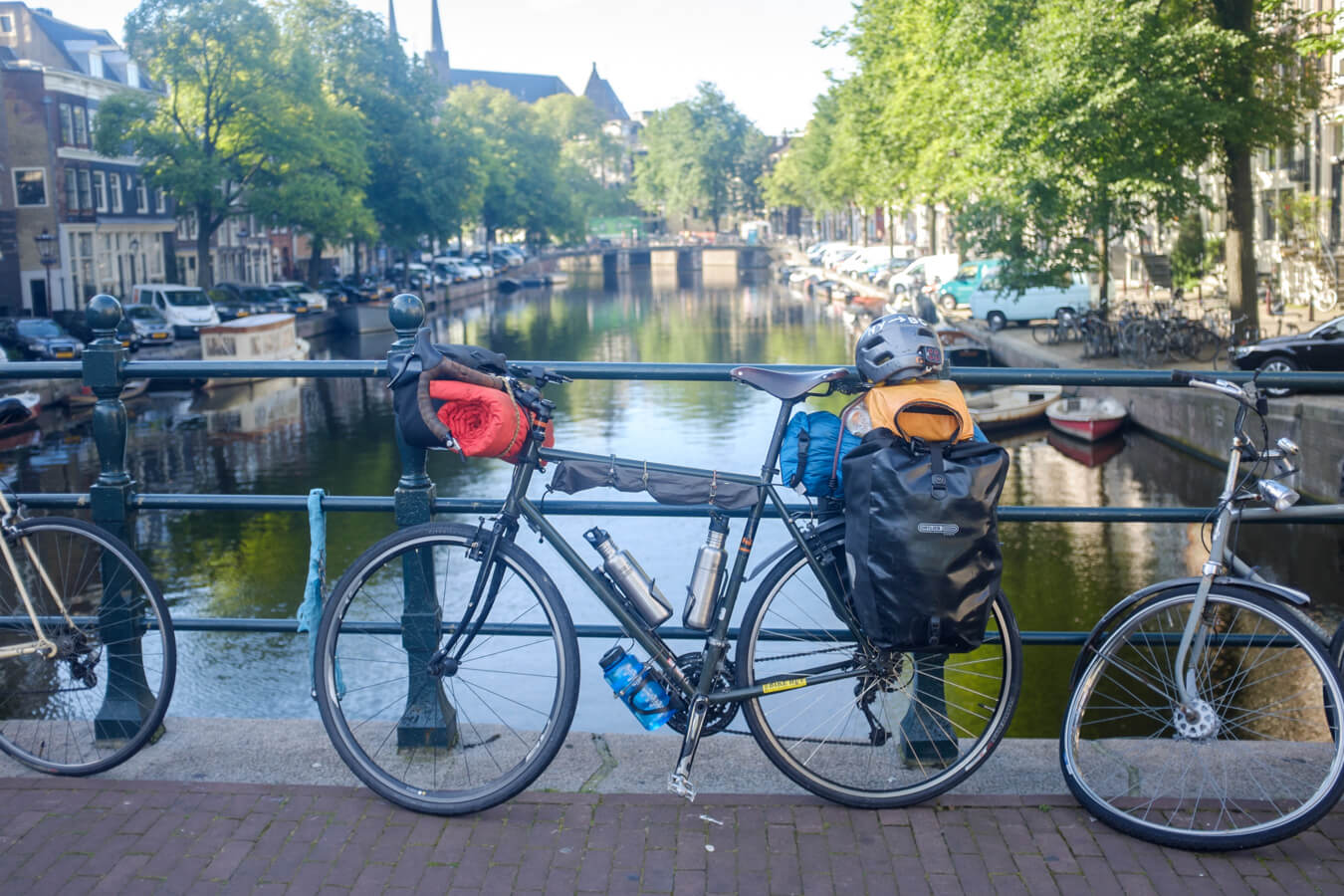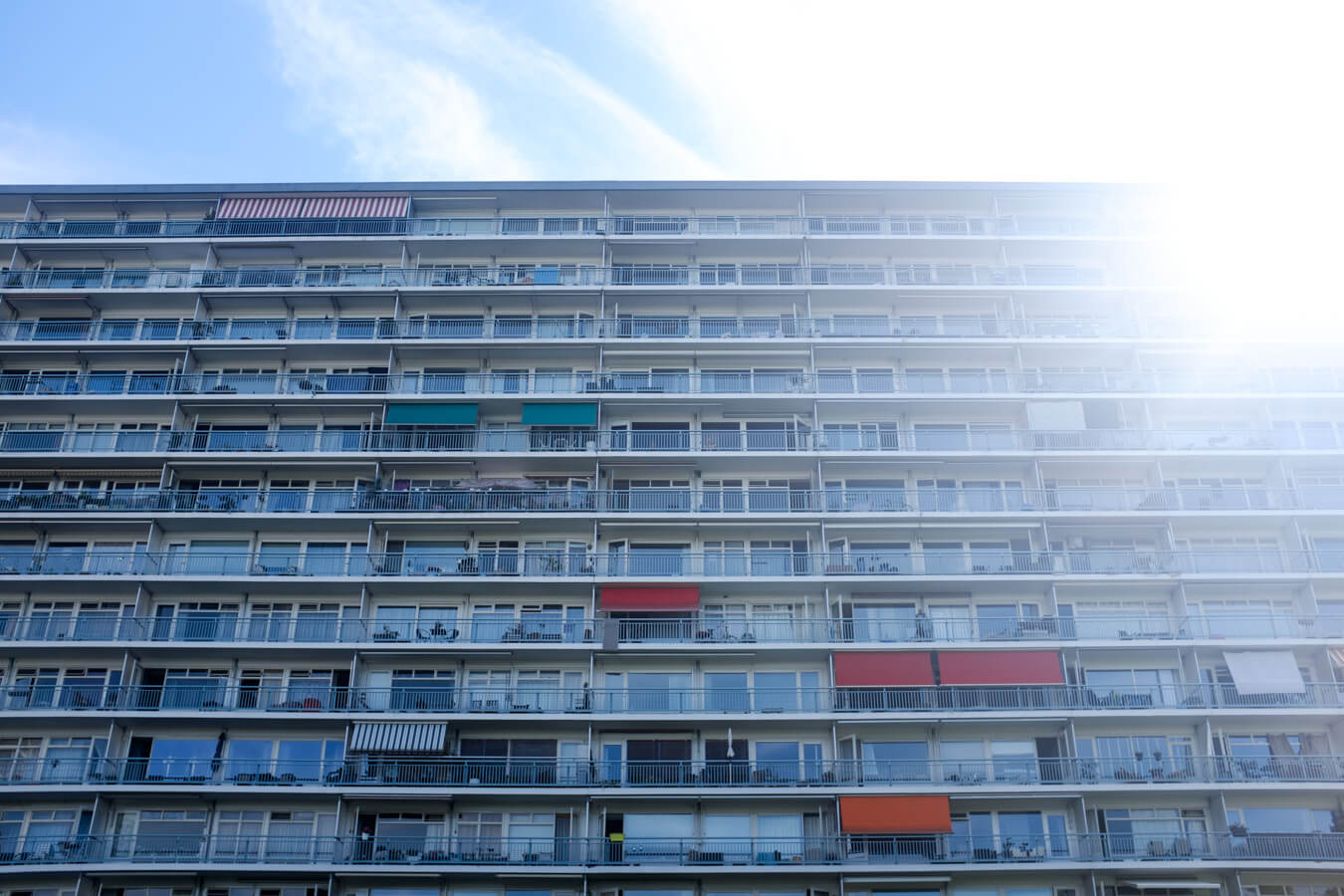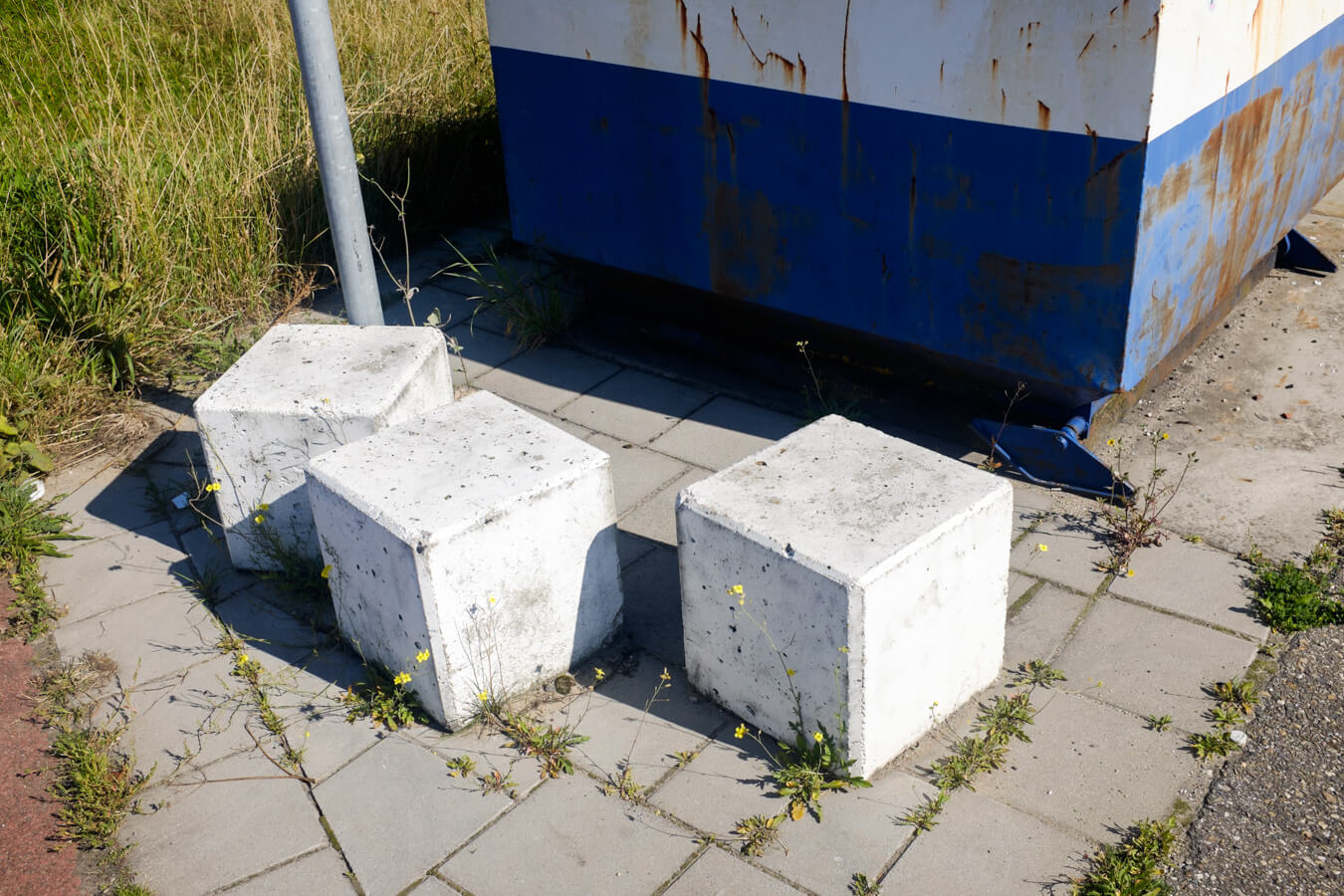 After getting up early, saying my goodbyes, posting a parcel, buying a lock after I lost mine last night on the way to the kebab shop, and buying the last good coffee I'll have for a while, I followed paths out of the bustling and pretty city center, into the suburbs, and beyond to the kind of area only suitable for building an IKEA. There's so many cycle paths it's almost confusing, but that's a very first world problem in the world of cycle touring. Everything is flat and as things become a little more rural the air smells vaguely of potatoes. Planes fly close to the ground as they come into land at nearby Schiphol.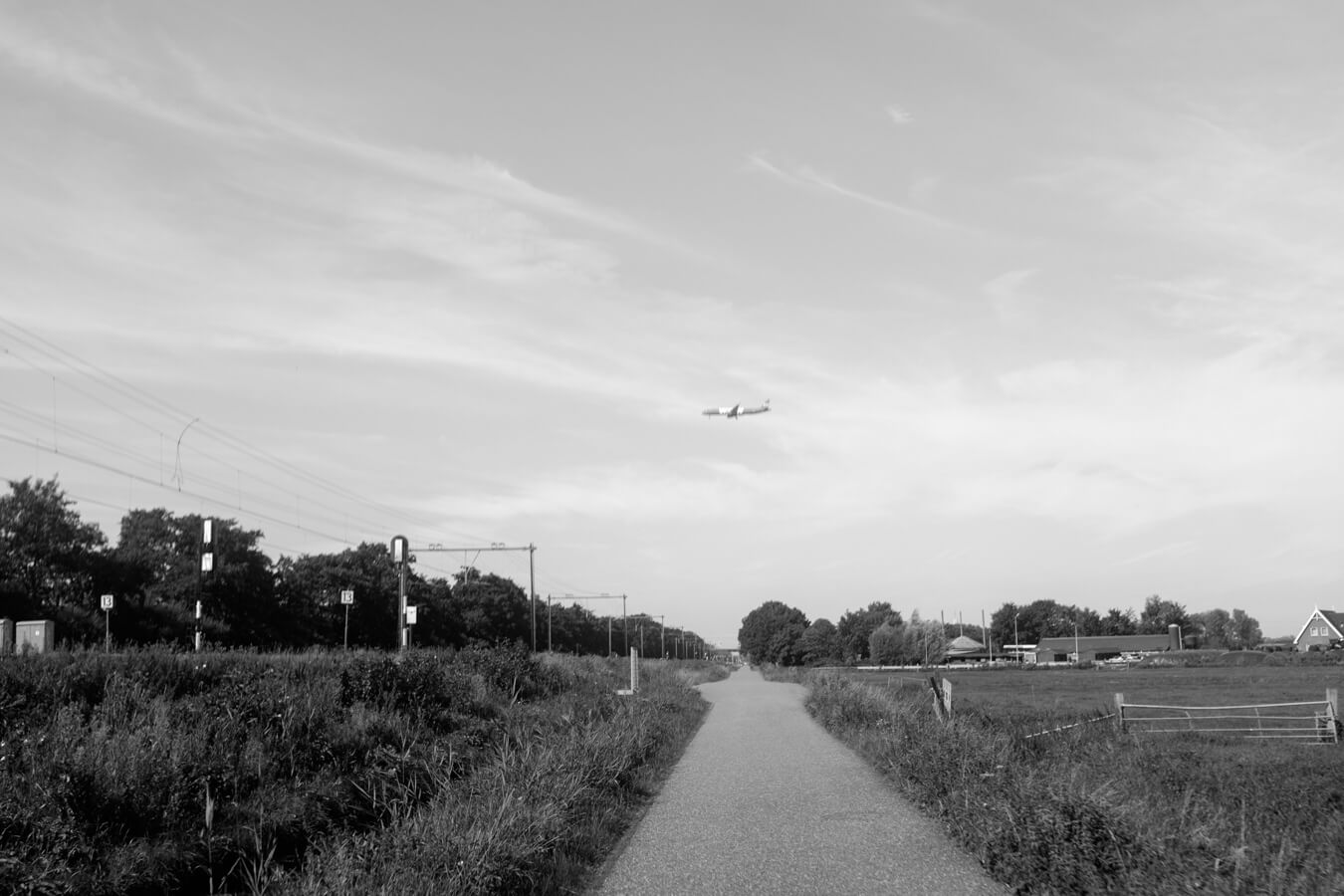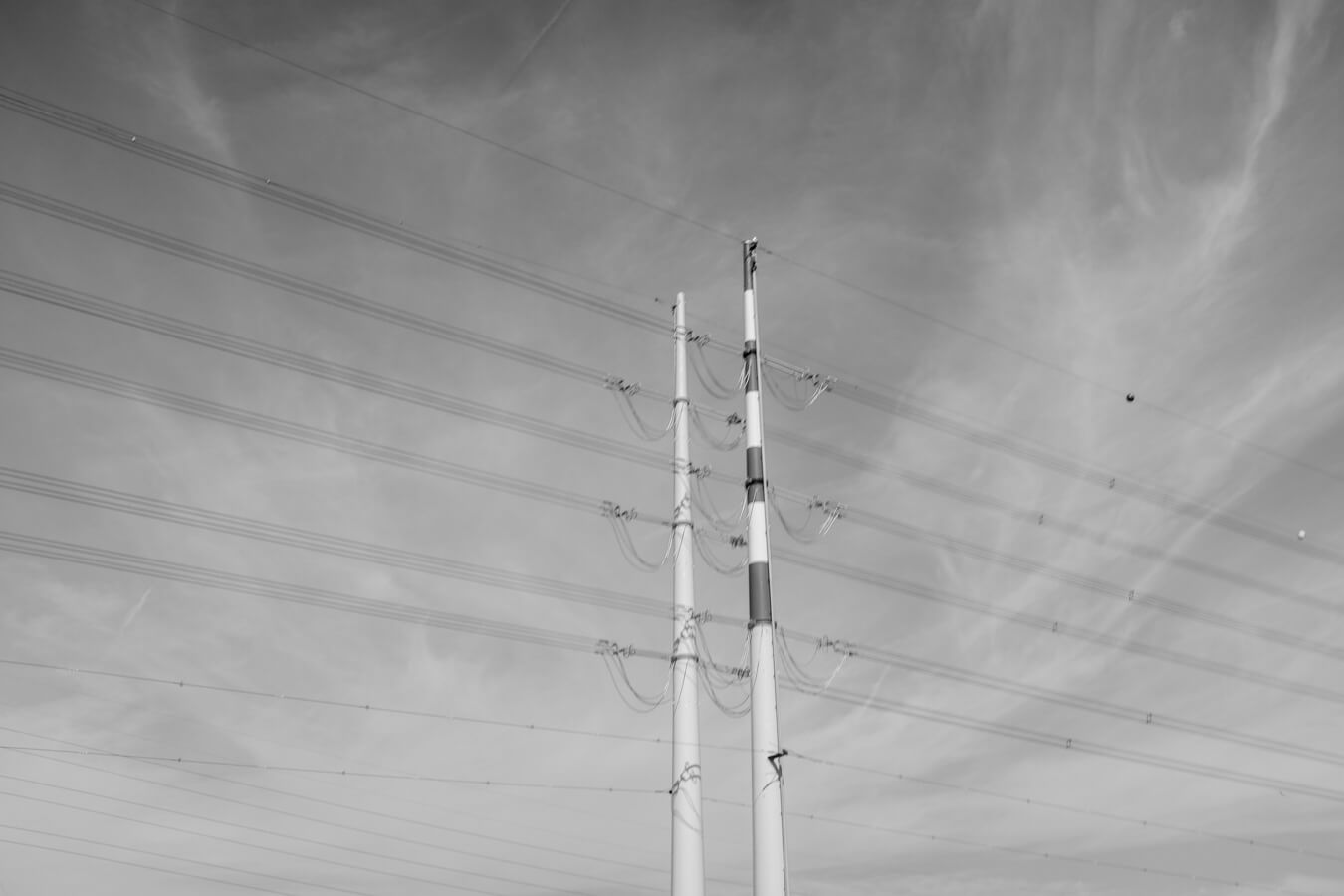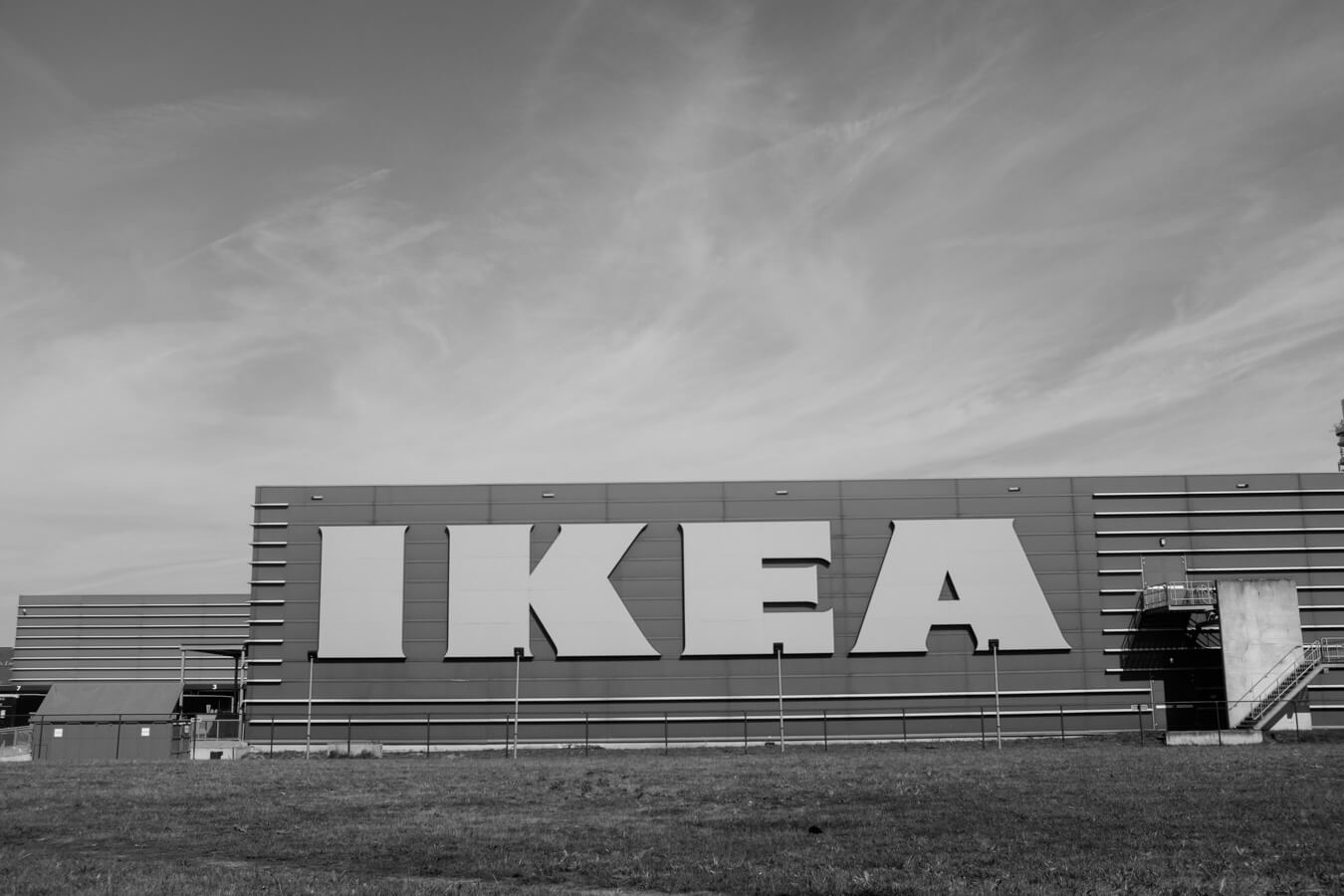 I reach Haarlem, one of the bigger cities before the coast, then Zandvoort, after crossing what will be the first of many sets of sand dunes. The path cut a scenic route through the scraggly sandy mounds then dumped me a few blocks from the beach. It's heaving with people under and around bright red coke umbrellas. I pause for a bit on a bench near a van selling some kind of fried seafood then carry on with the sea to my right.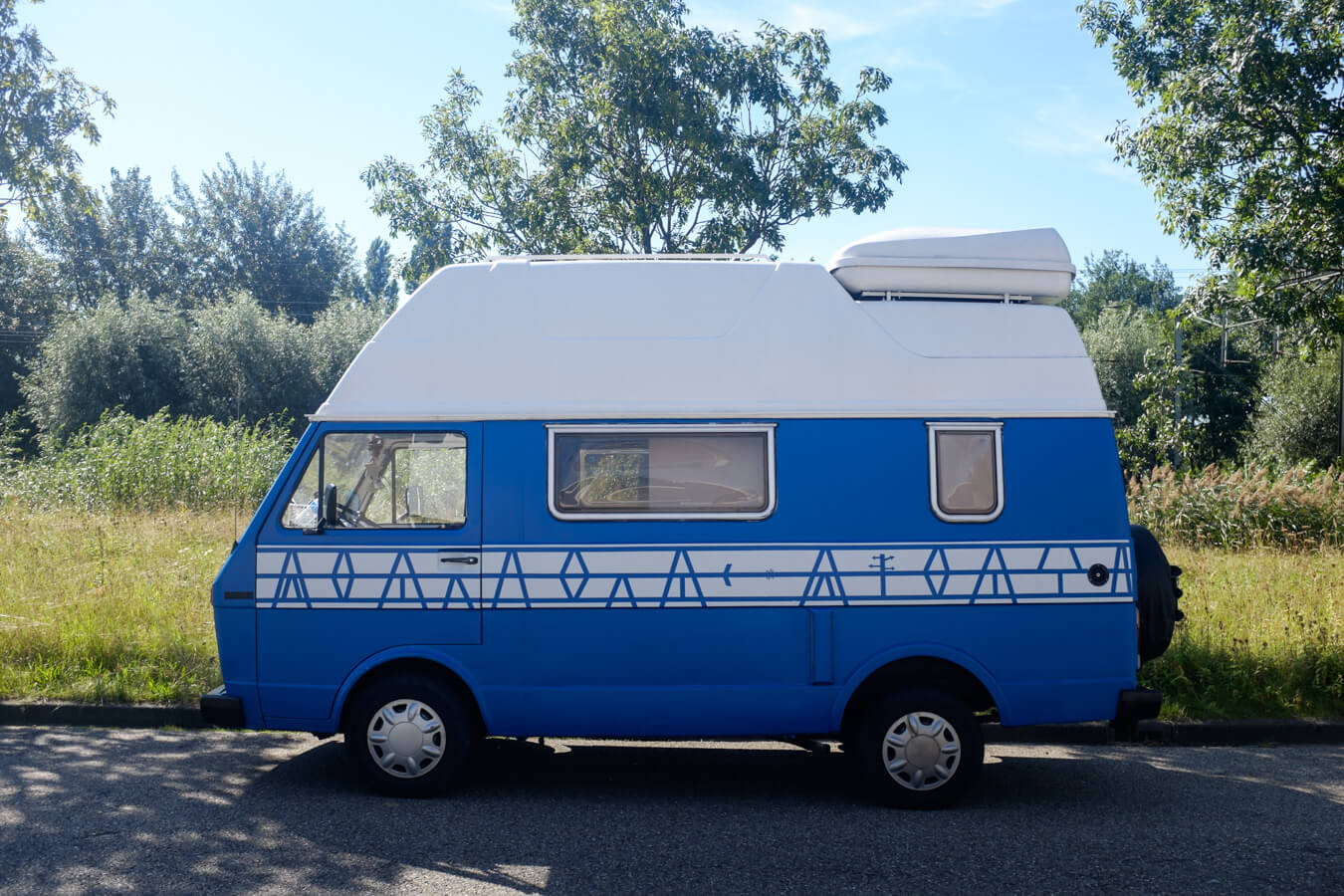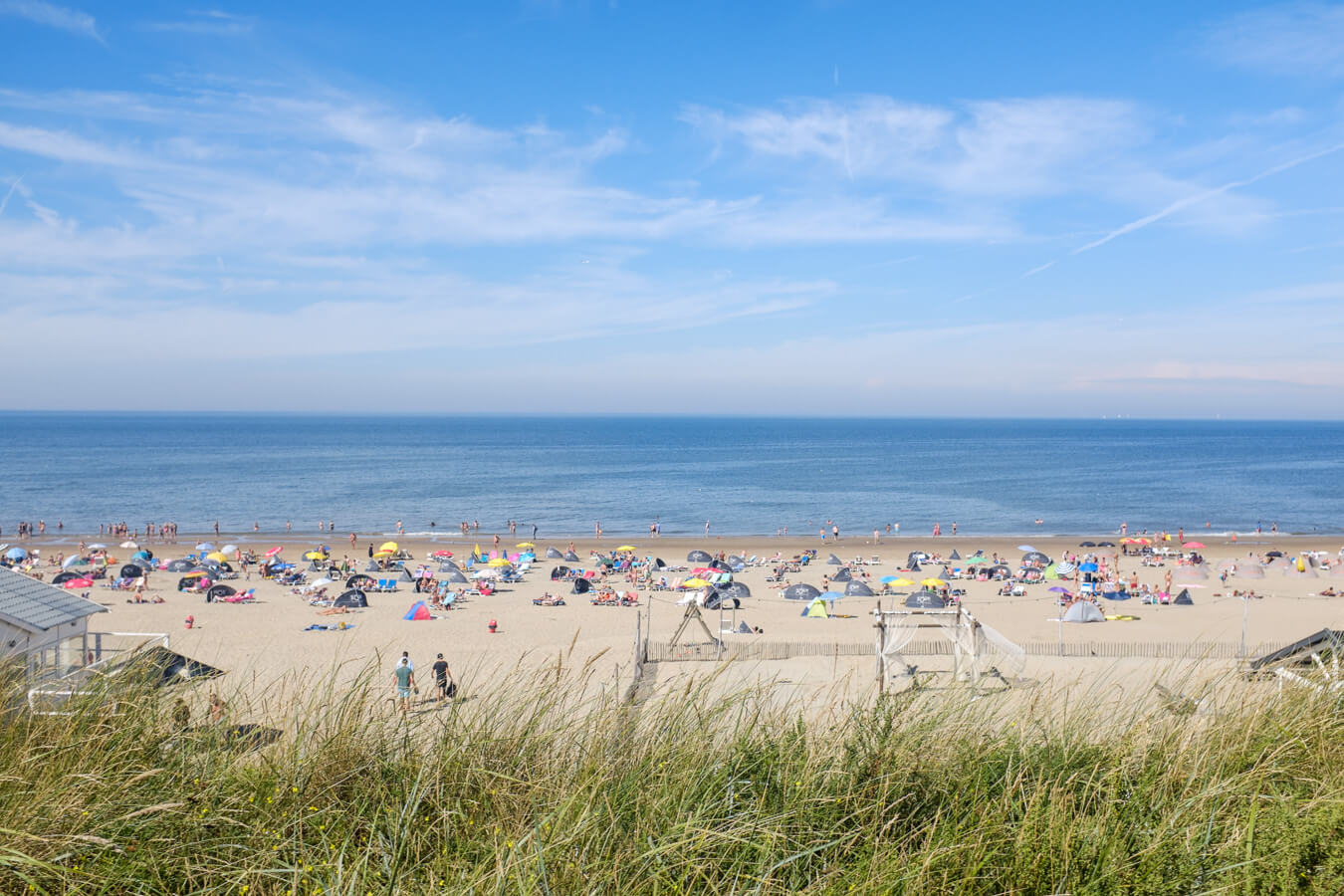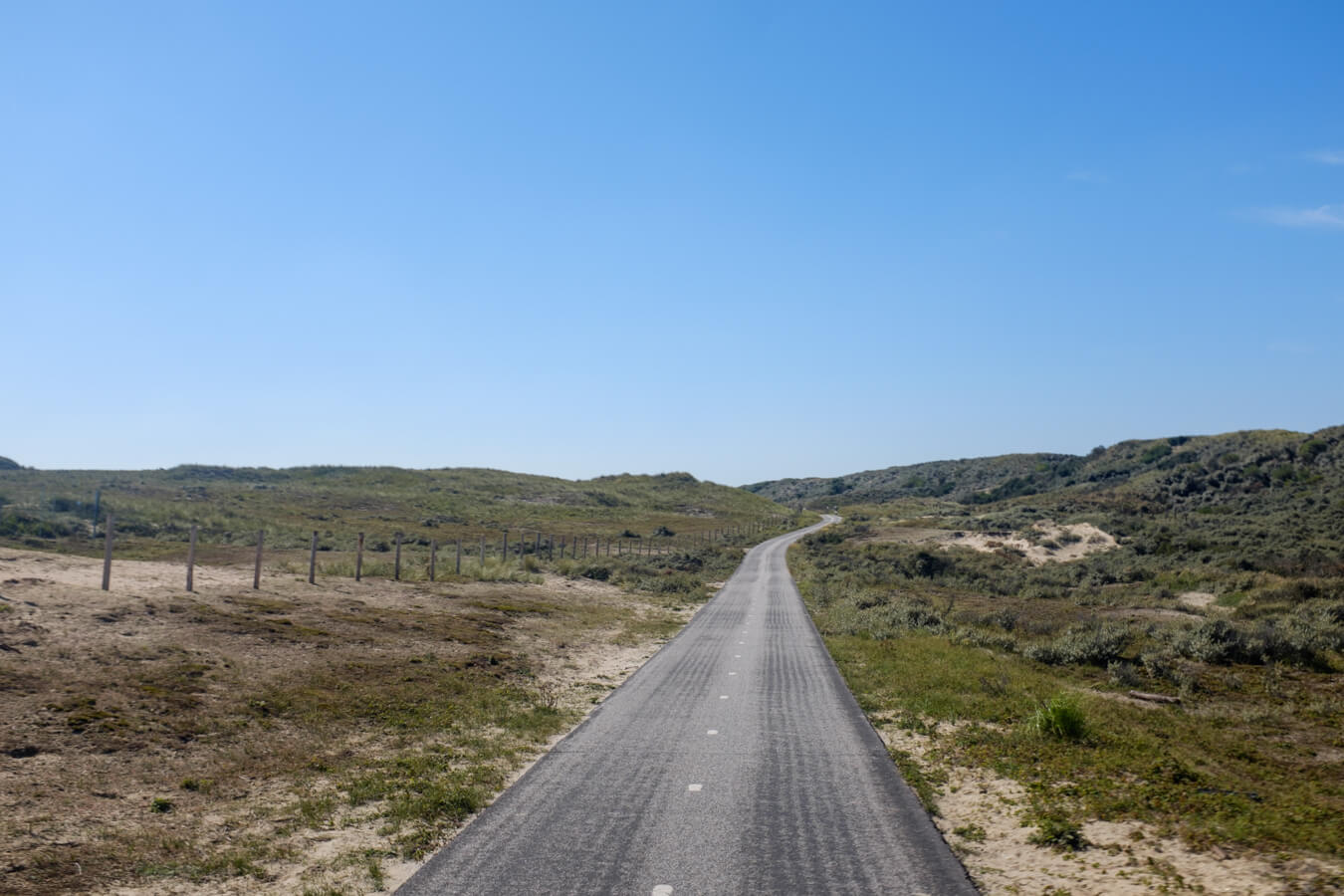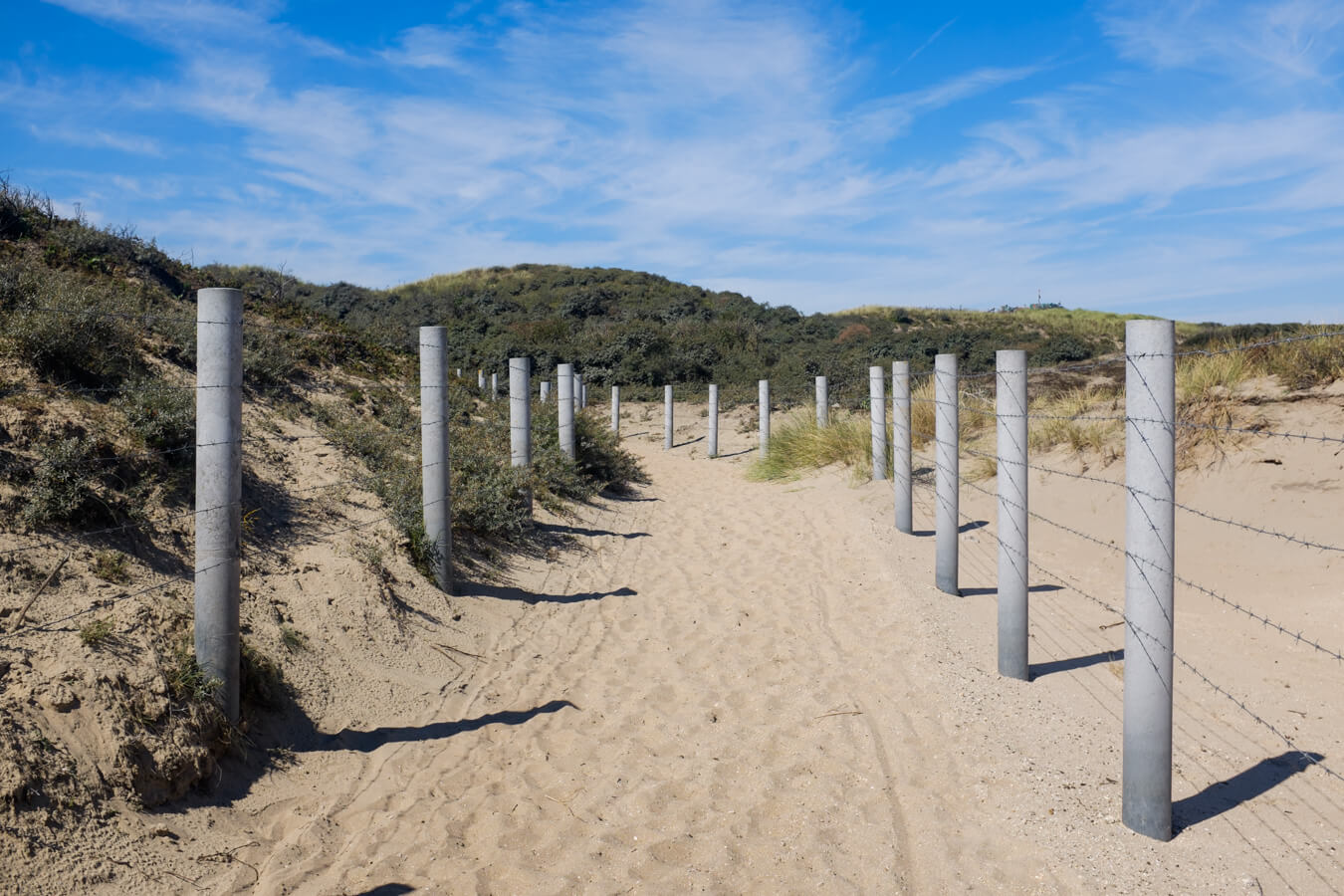 I'm now on the North Seas route. A well established cycle route that goes all the way from Scotland, down through England, then crossing over into Holland, Denmark, Sweden and Norway, terminating in Bergen.
It's fairly well signposted and once I find a bit of a rhythm the day passes quickly.
The path winds across a series of dunes with serene beaches. These are marked by signs and bikes locked by the entrance to each. Usually a steep uphill path though thick sand which leads down to the beach. I stop off at a few but I'm too hot and tired to do much more than look at the view and half entertain the idea of swimming before trudging back up, emptying my shoes of the sand I've collected, and carrying on.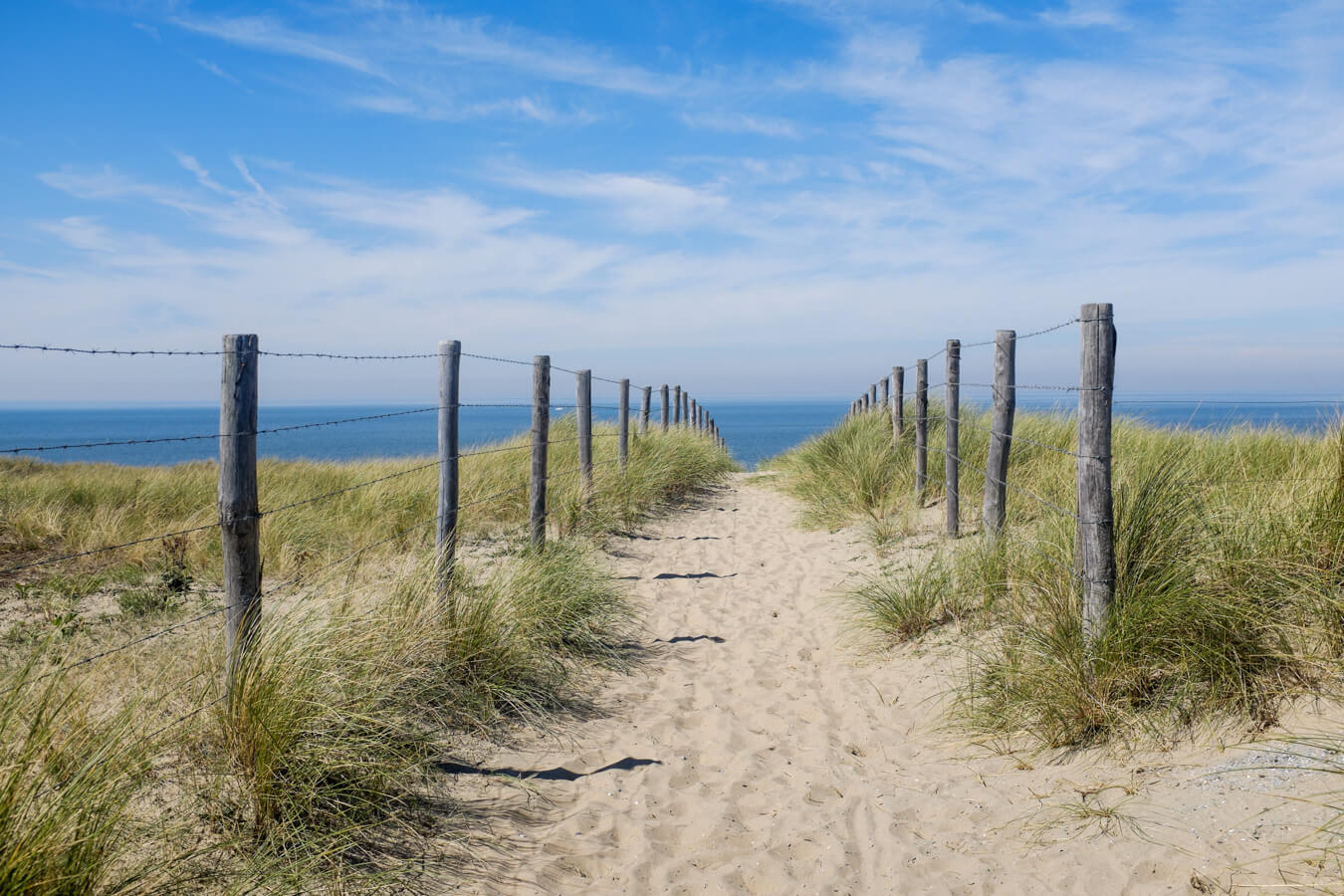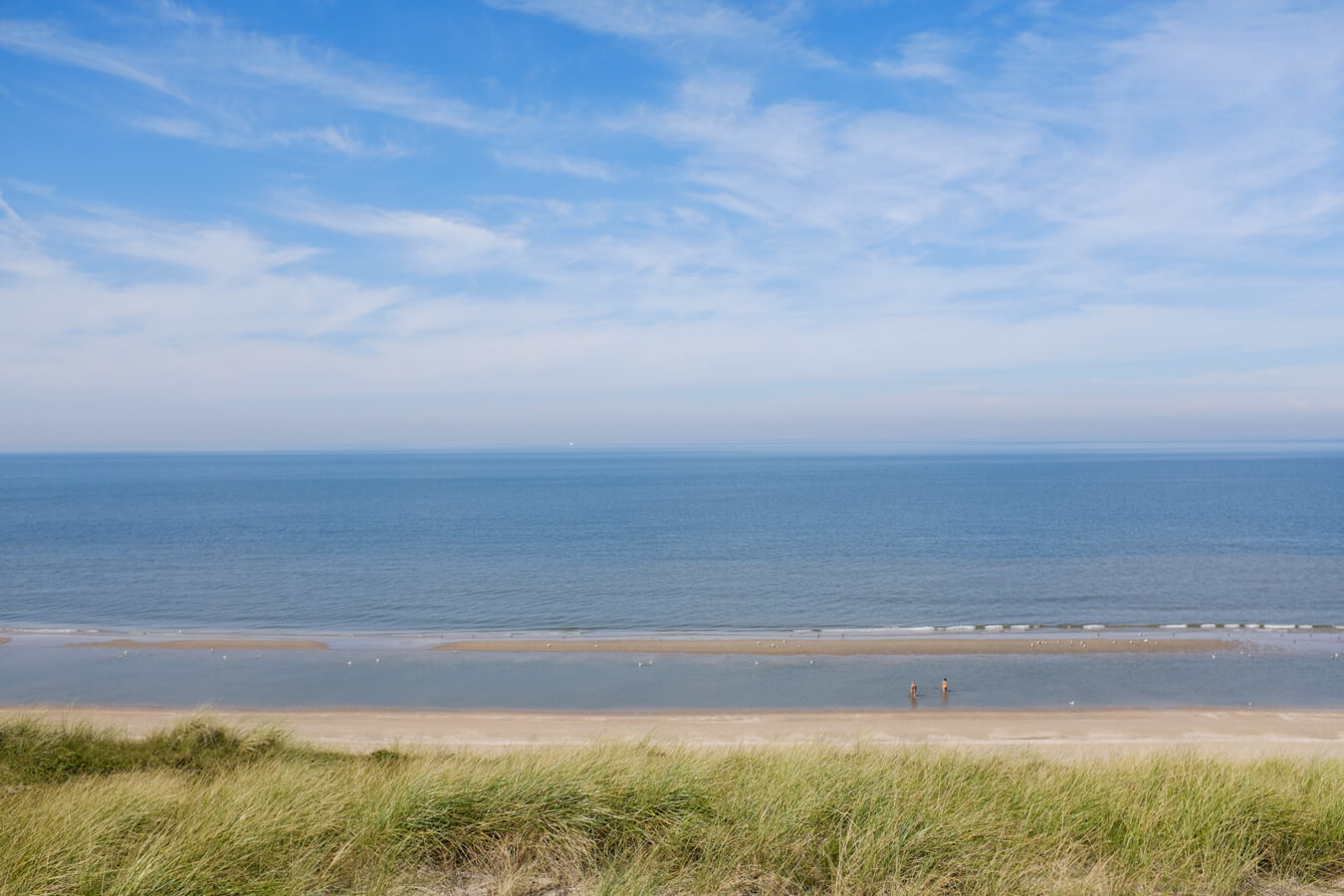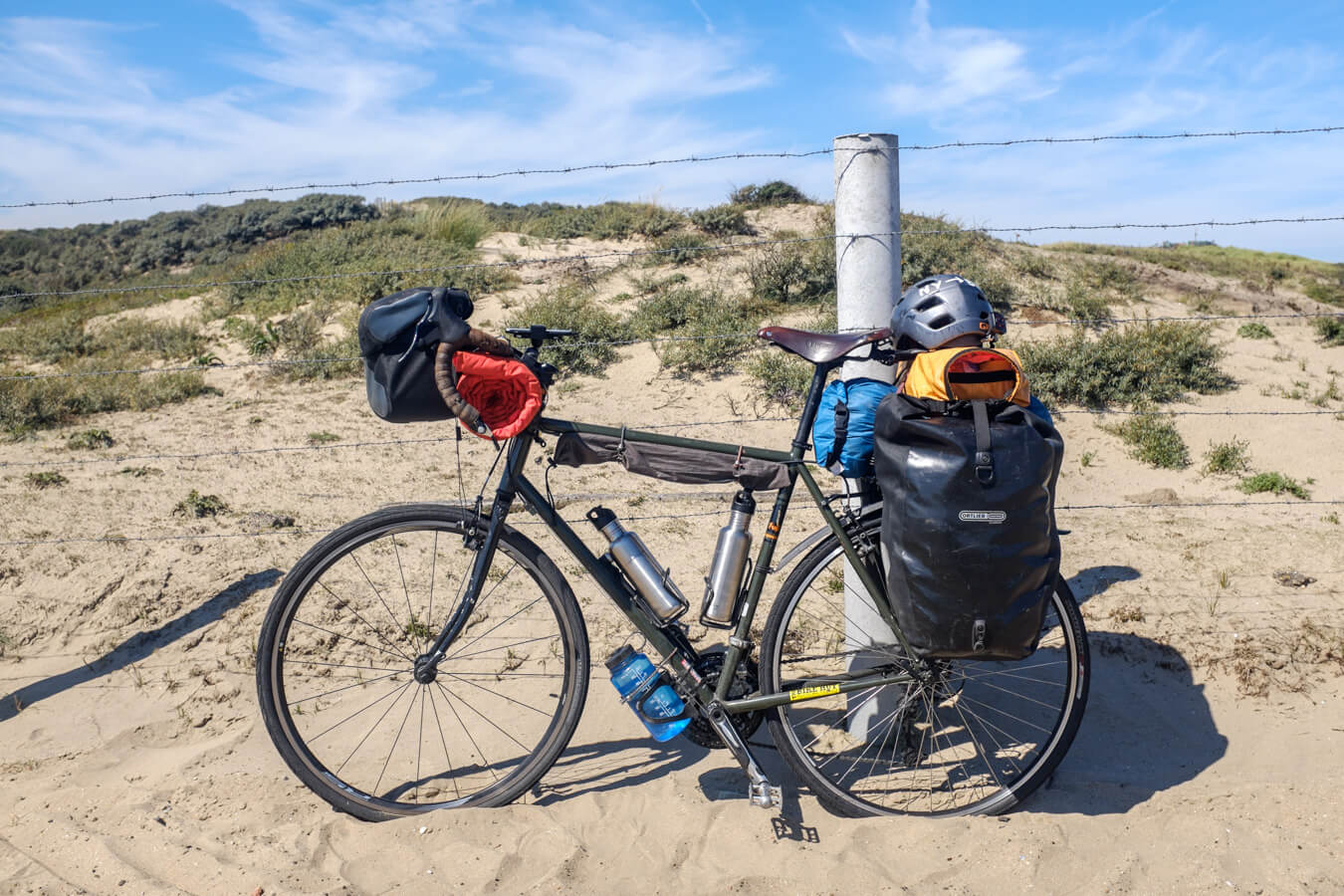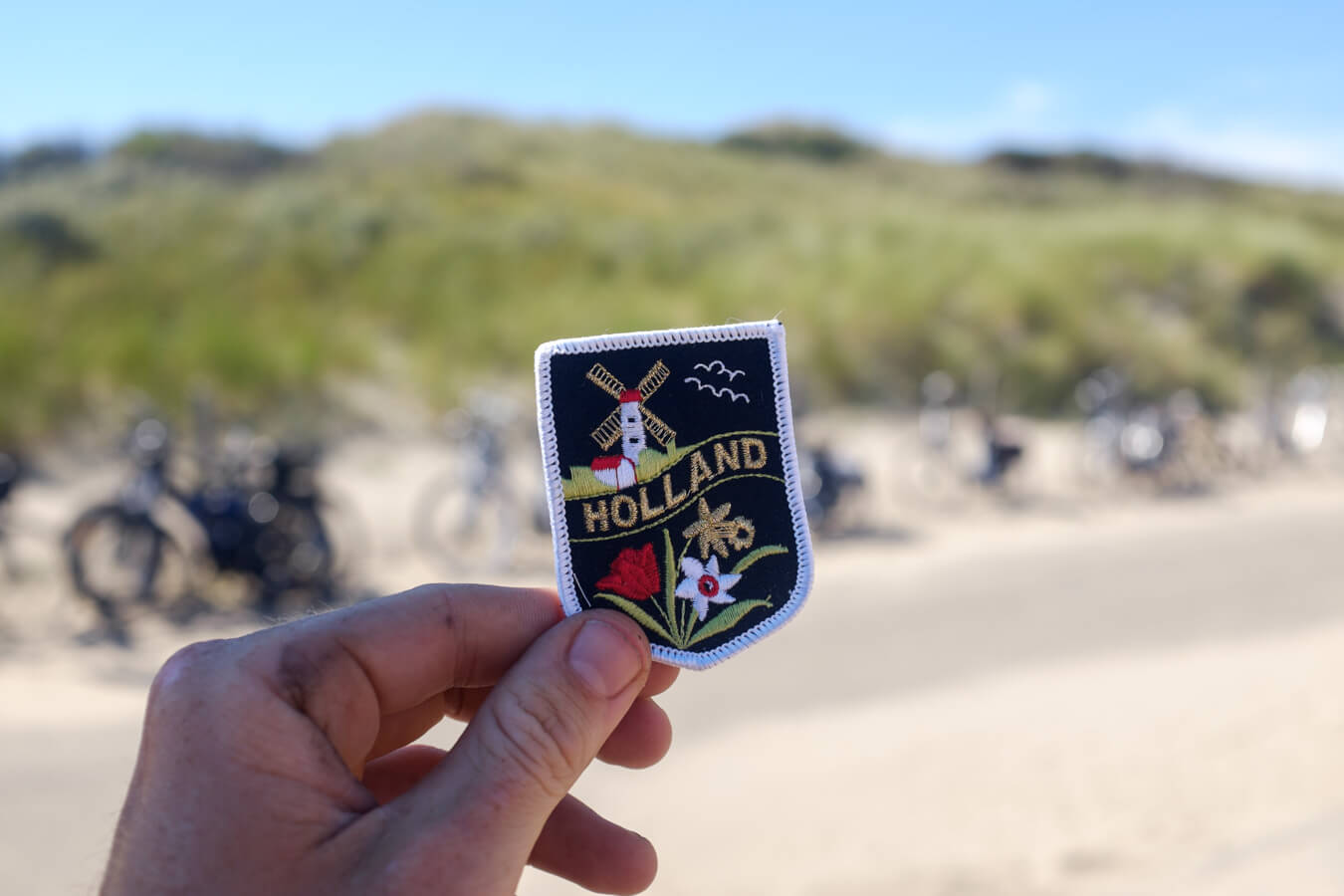 Inbetween these quieter (sometimes nudist) beaches, are the much busier ones which are accessible by main roads and cars, and surrounding these the usual collection of seaside hotels and restaurants and shops selling beach tat.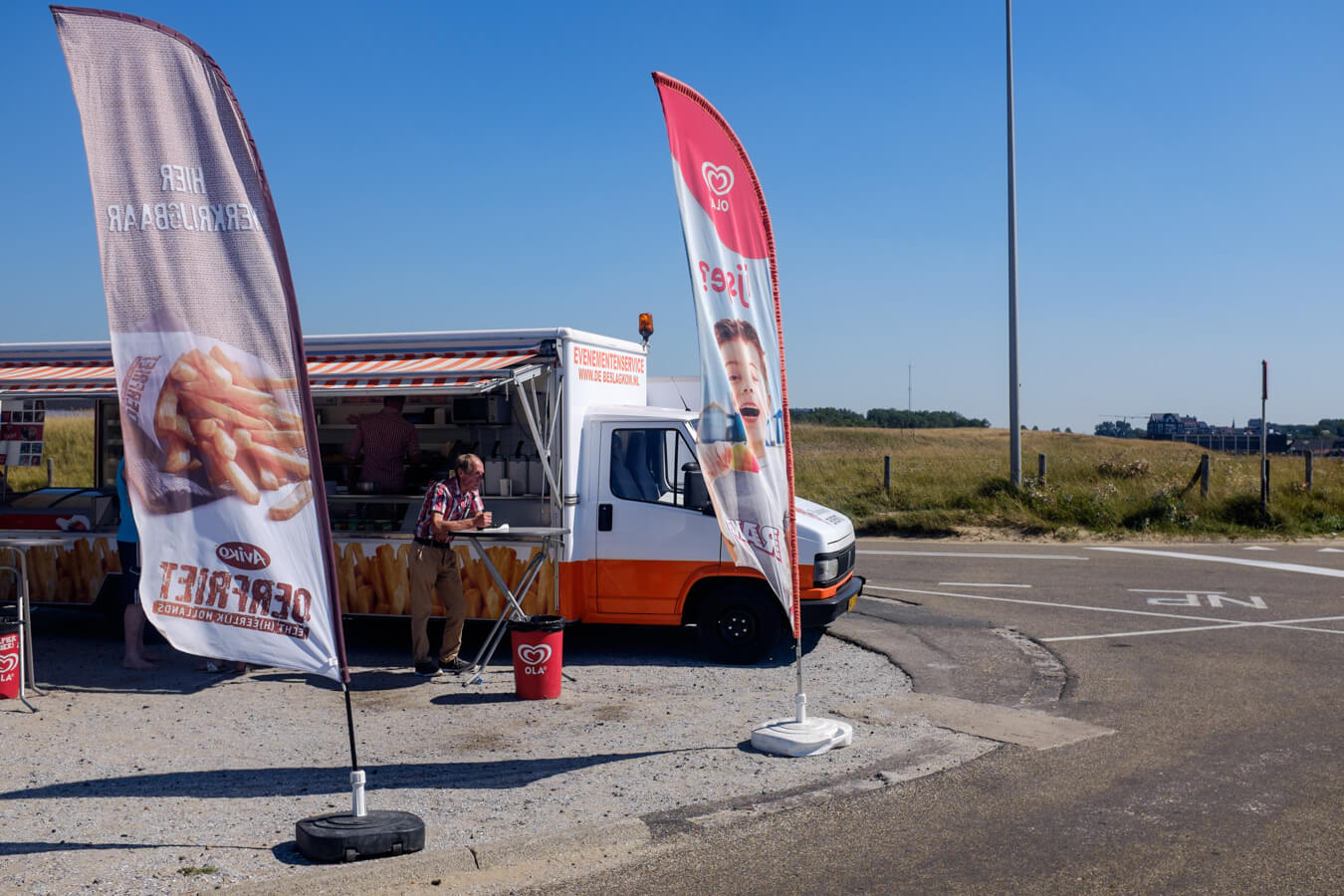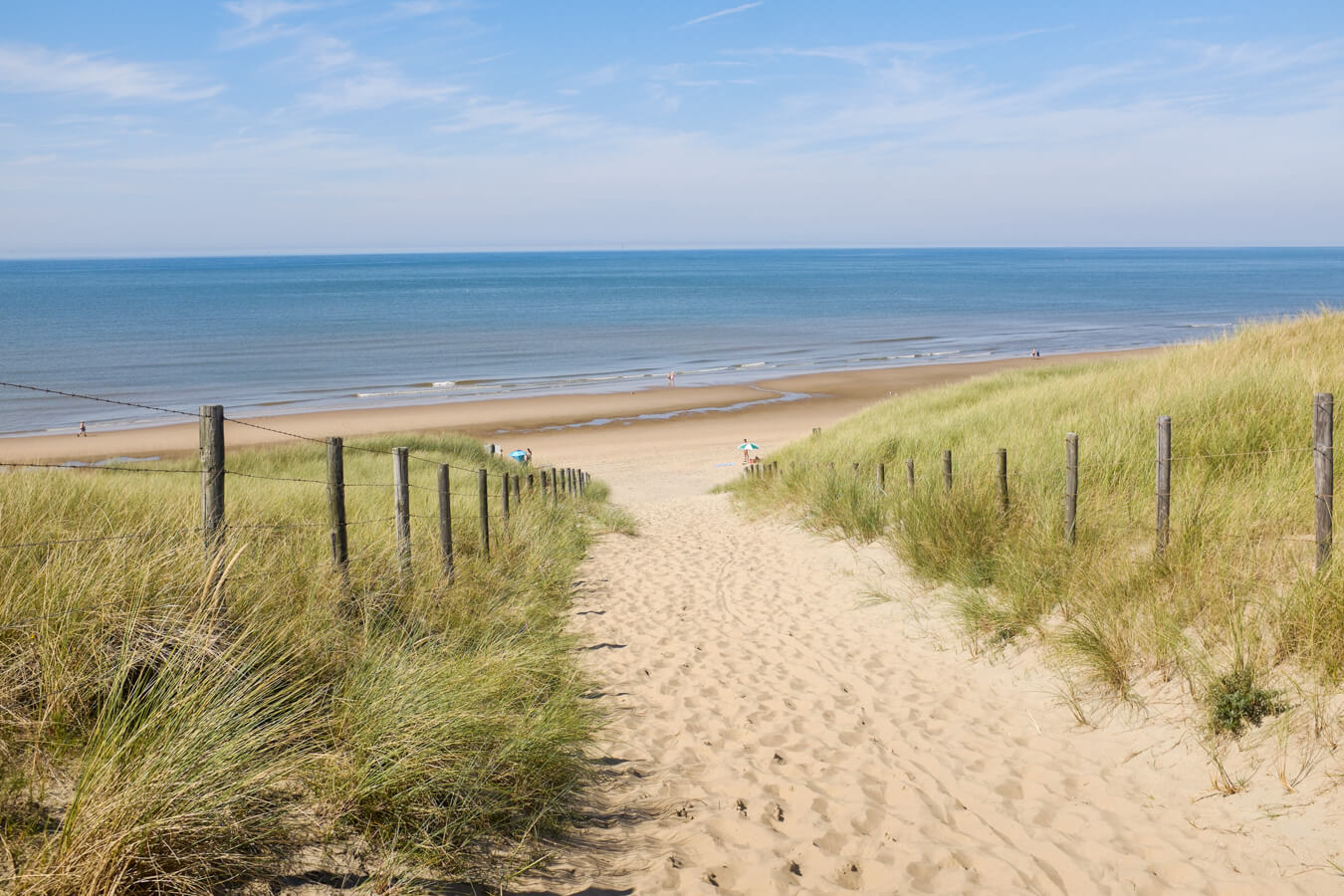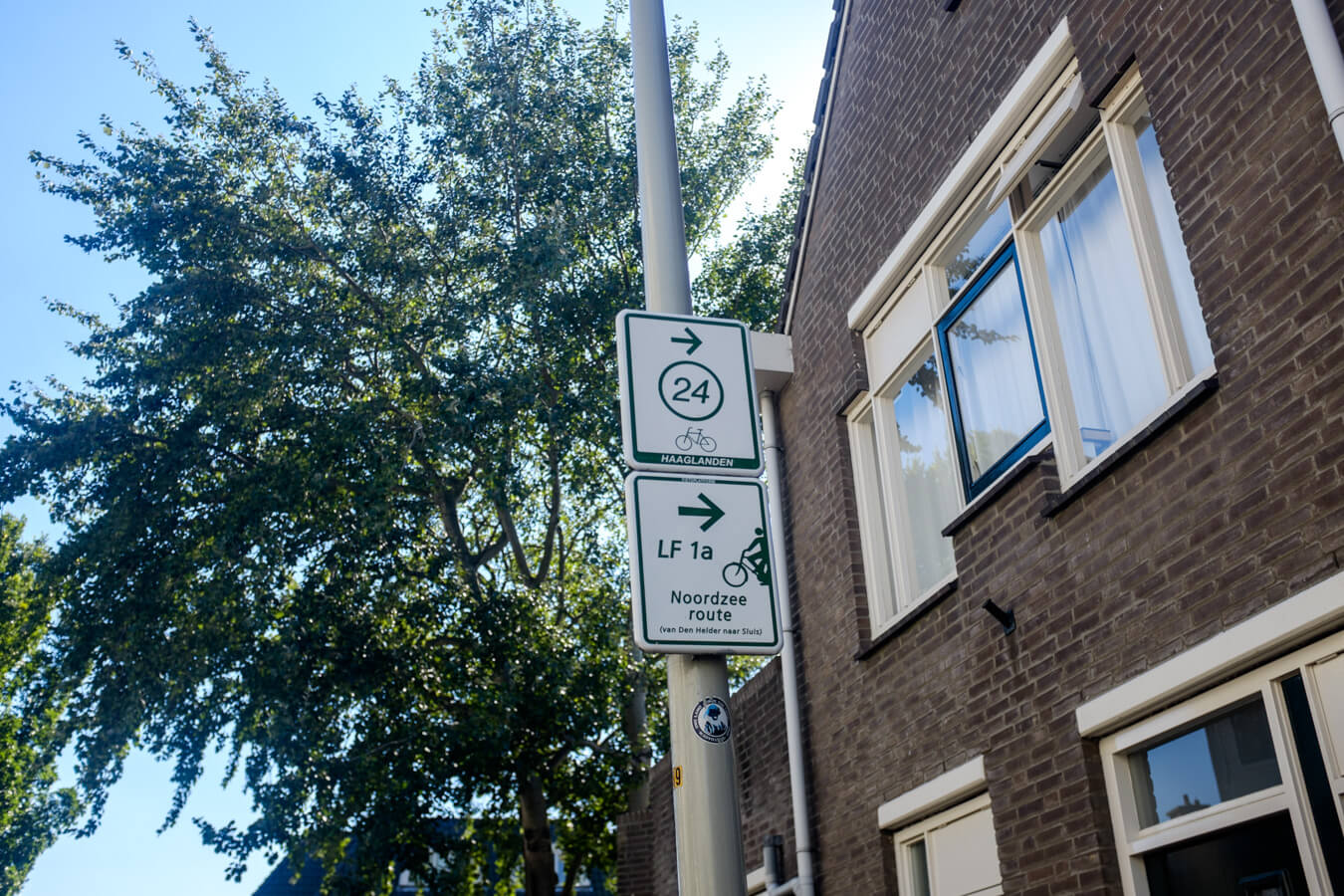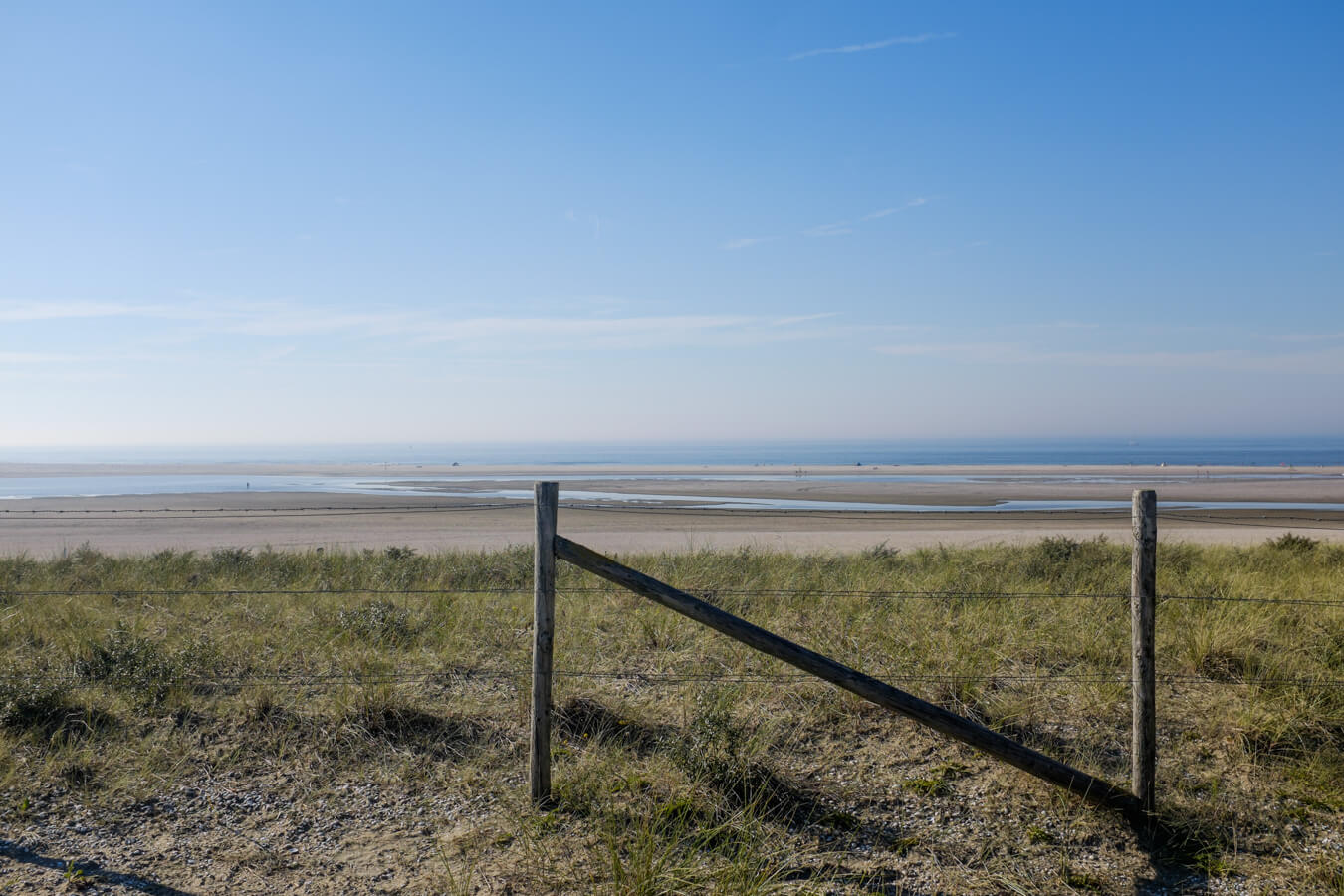 The route becomes less straightforward when I reach what I later realise was The Hague. I loose the path and spend some time on roads for the first time in a while and lost in a miserable carpark at a port. But soon enough I'm back on track and it's more dunes and sea for the last 10 miles of the day as I reach the hook of Holland.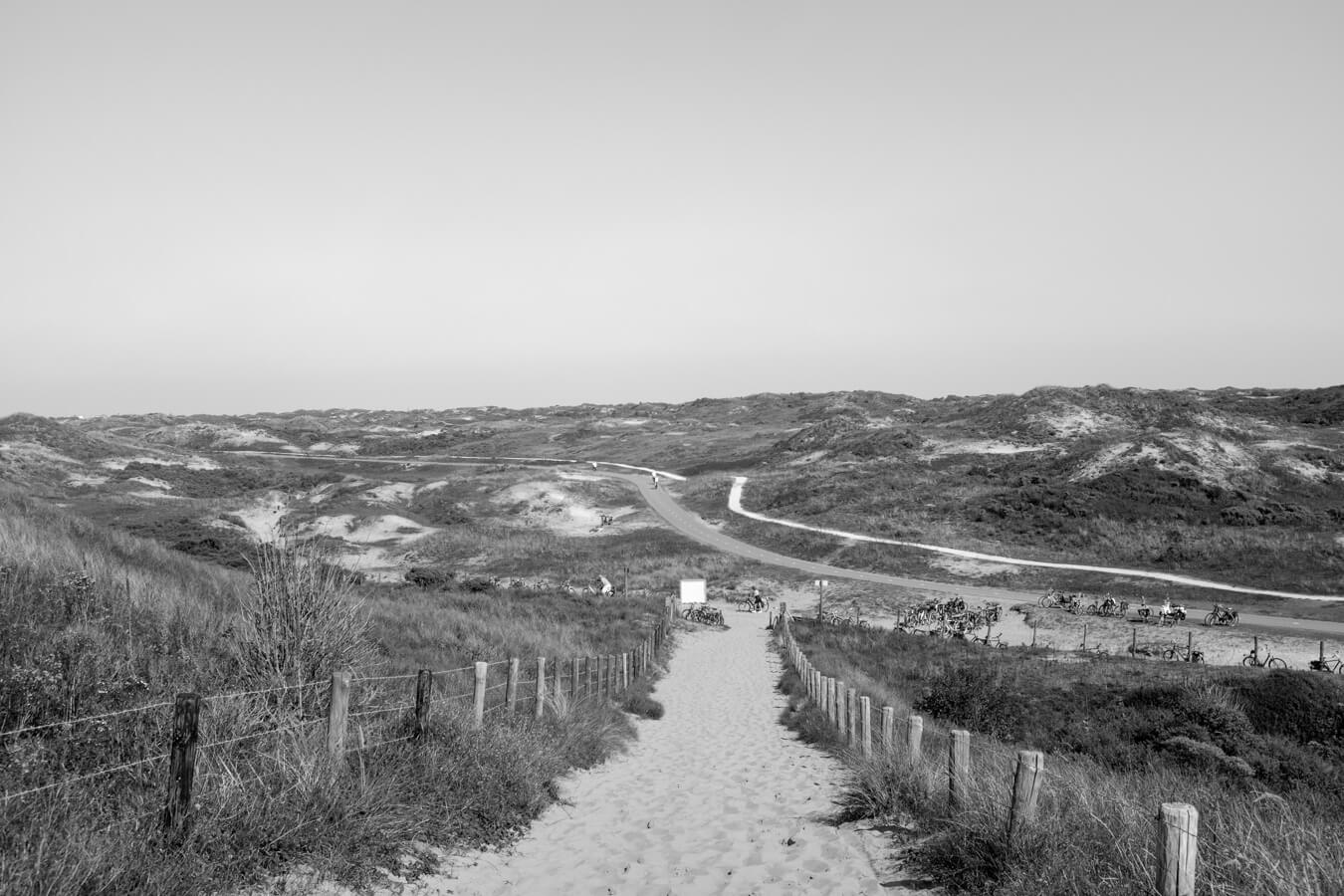 I decide its best to stop here, and call it a day at 6pm, and 60 miles, rather than continue and tackle the broken up coastline between here and Belgium which involves at least one ferry, several bridges, and potentially a lot of dreary port furniture.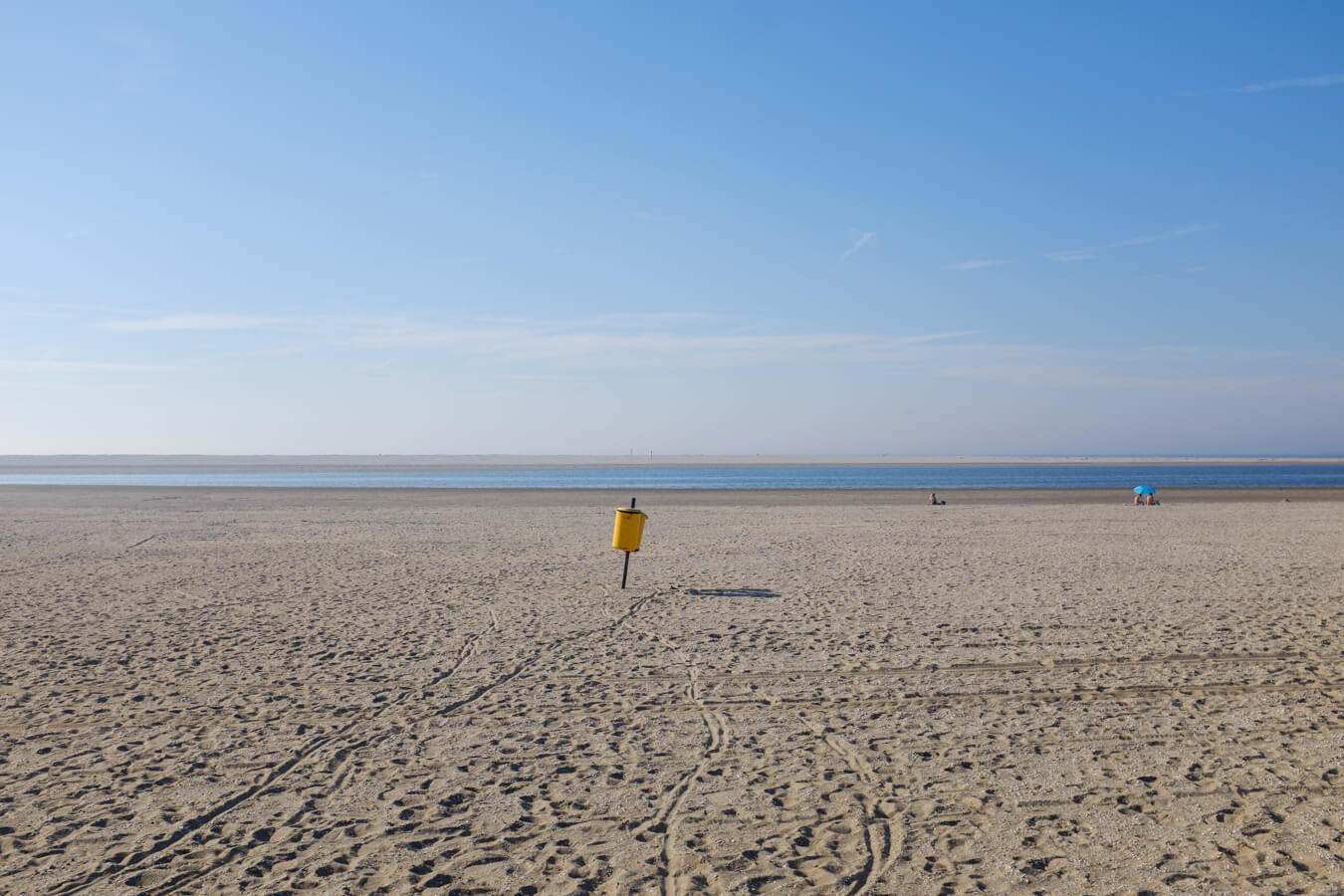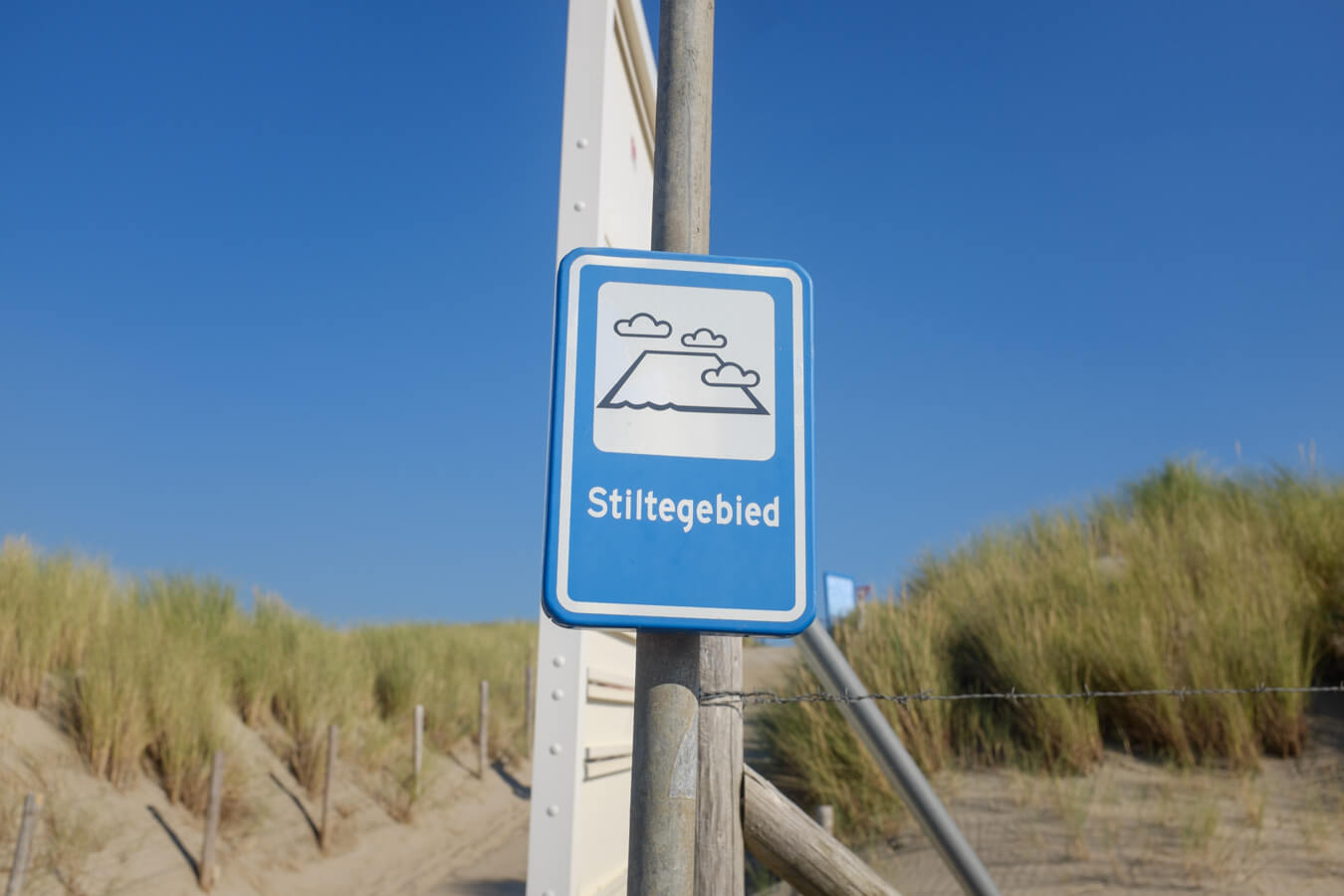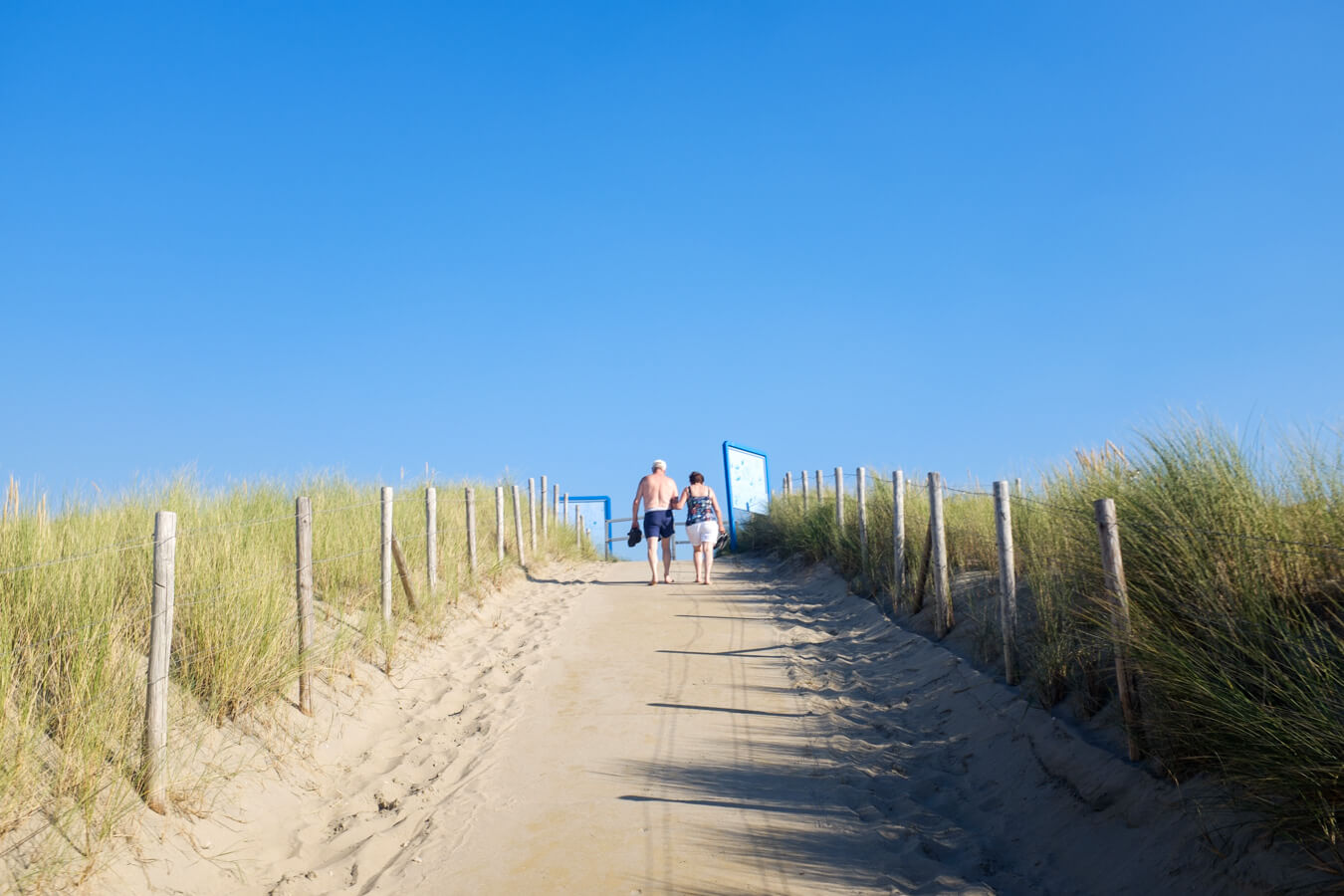 I have a couple of campsites marked on my map. The first turns out to be holiday cabins, but the second takes tents for €17.50. Not exactly cheap but I try and remind myself I probably paid twice and much for less some times in America so I hand over my money and let the receptionist lead me to the tent area which is scenically positioned between the back of the toilet block and a large semi-clothed German man who gives me a nod. There are ducks wandering around and accents which could be Dutch, Danish, or German. It all feels very European, though really the only big difference between here and America is the average size of things – both of the vehicles and the people.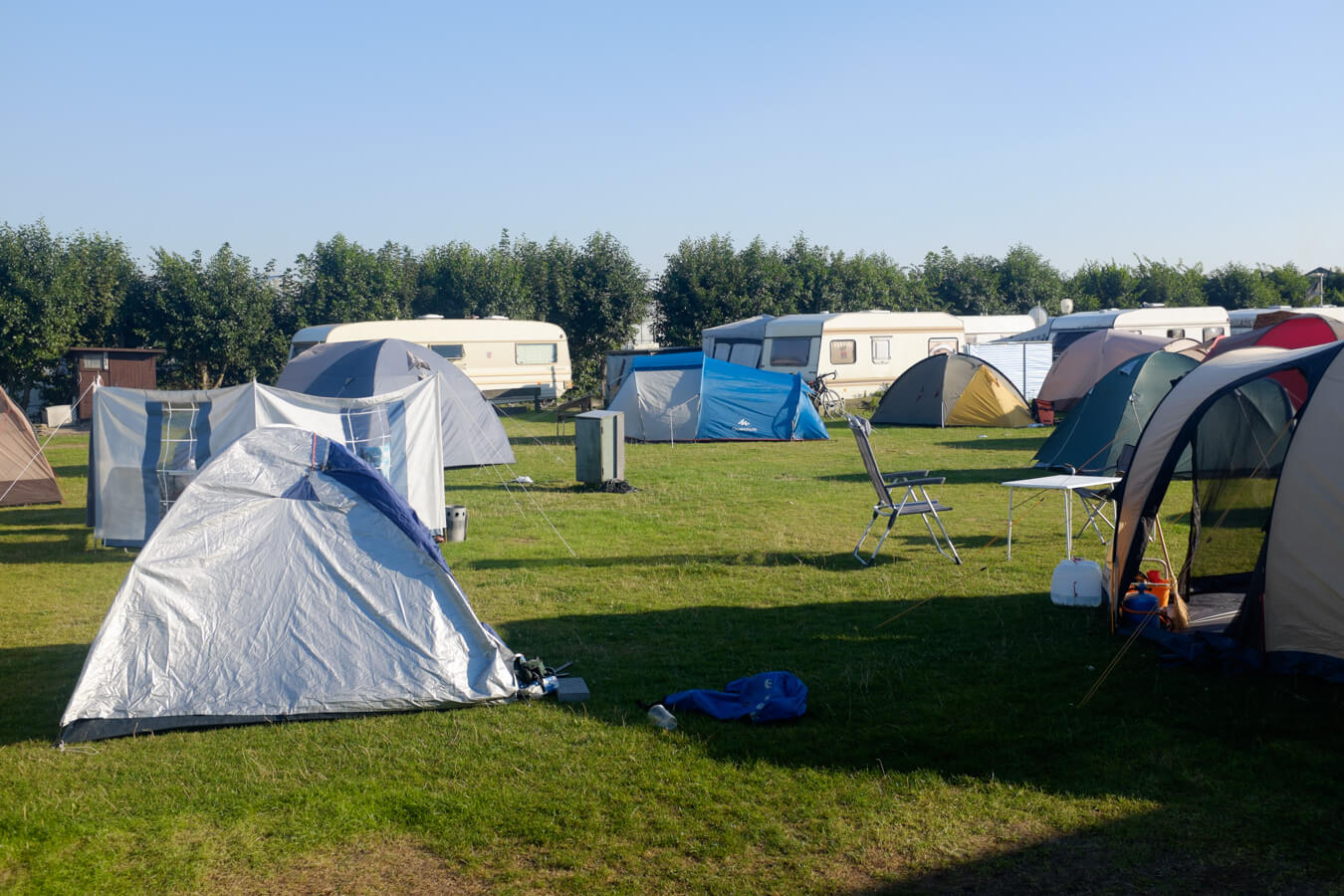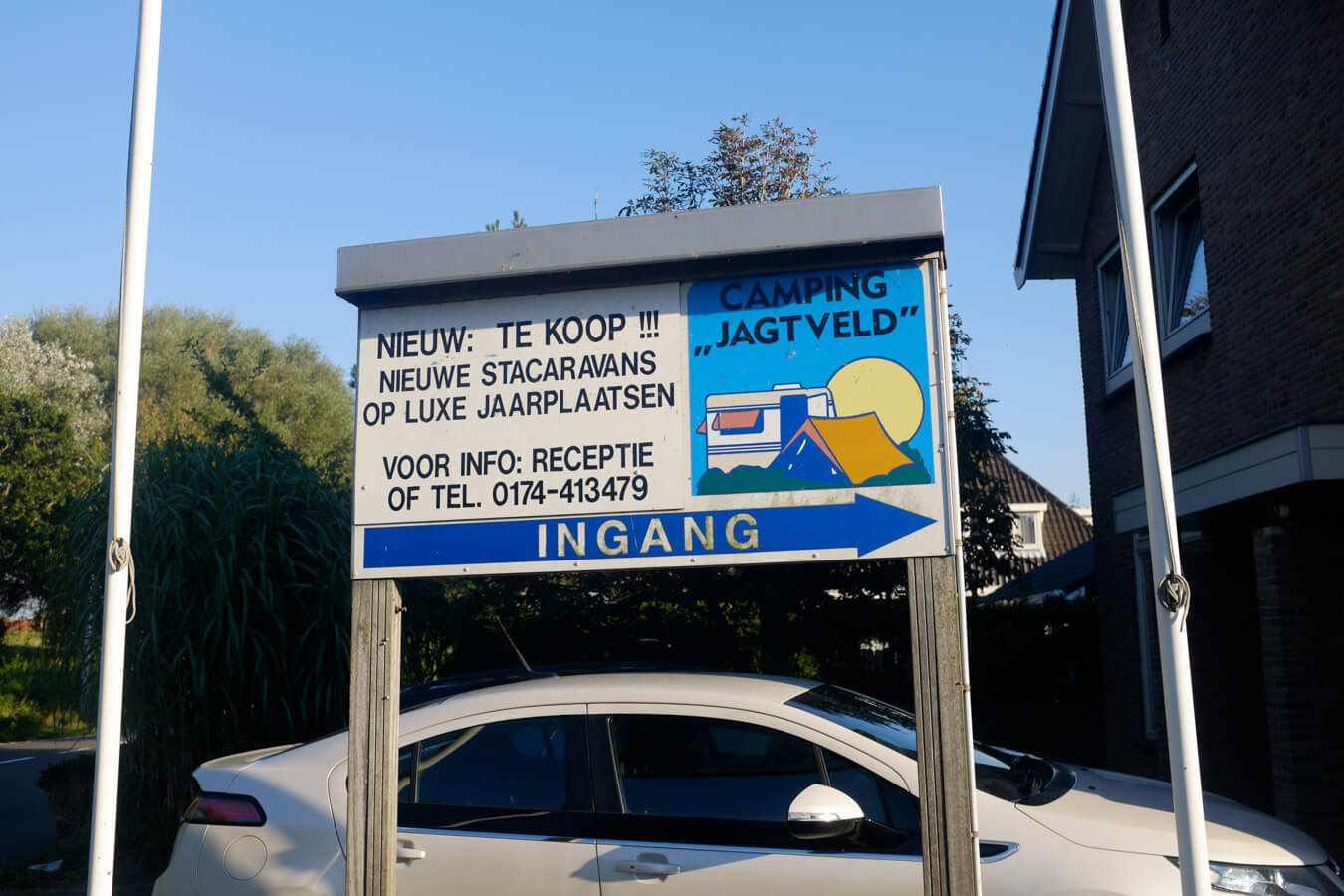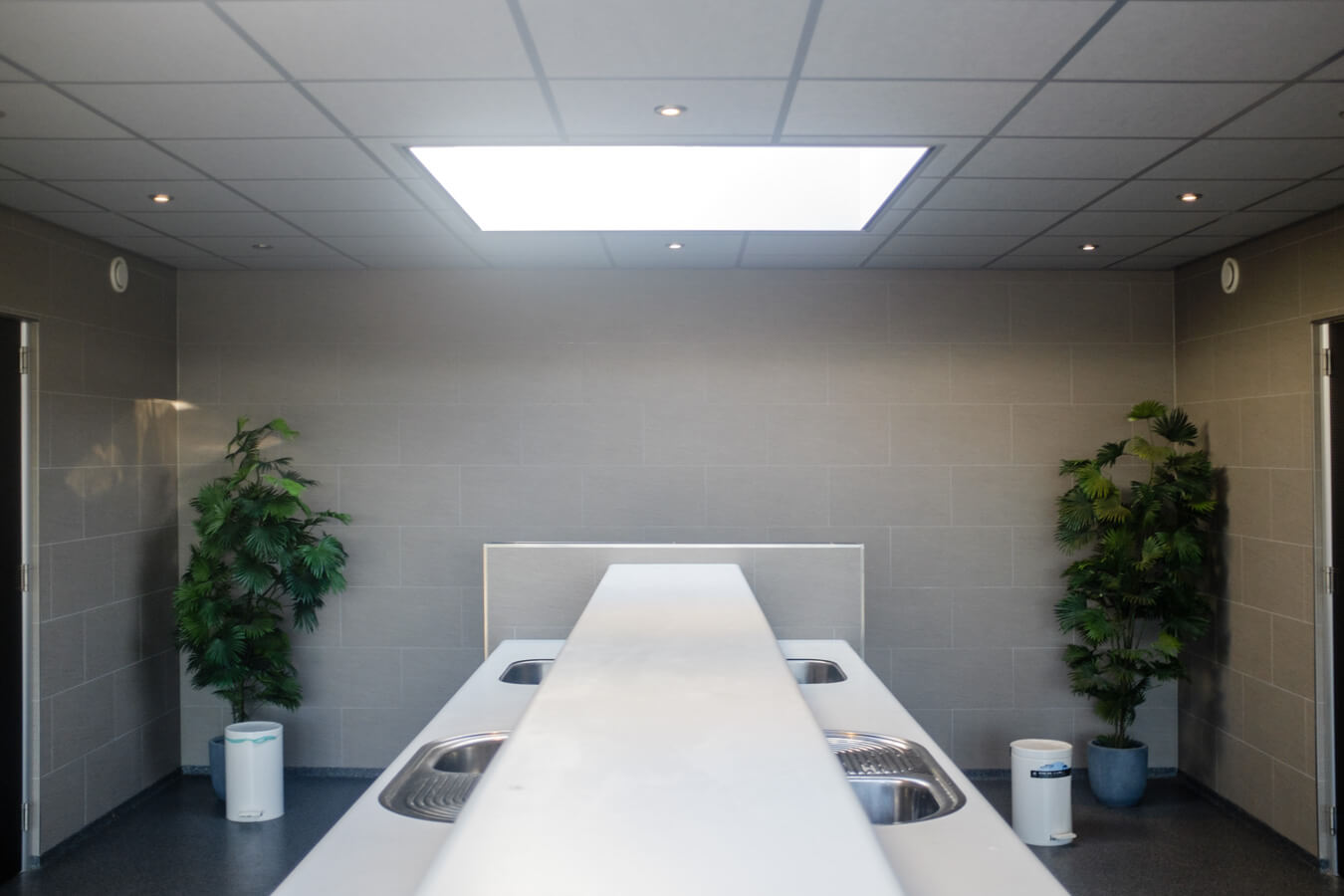 The bathroom is also one of the nicest I've been in with electronic shower timers which count down the 5 minutes you're allowed in crisp led digits.
Putting up my tent takes a little longer than before but I can feel myself getting gradually back into these simple and necessary routines, even after just a day, and I begin to feel a little more optimistic about the week ahead, but also have one eye on the ferry at Calais for a quick exit to England.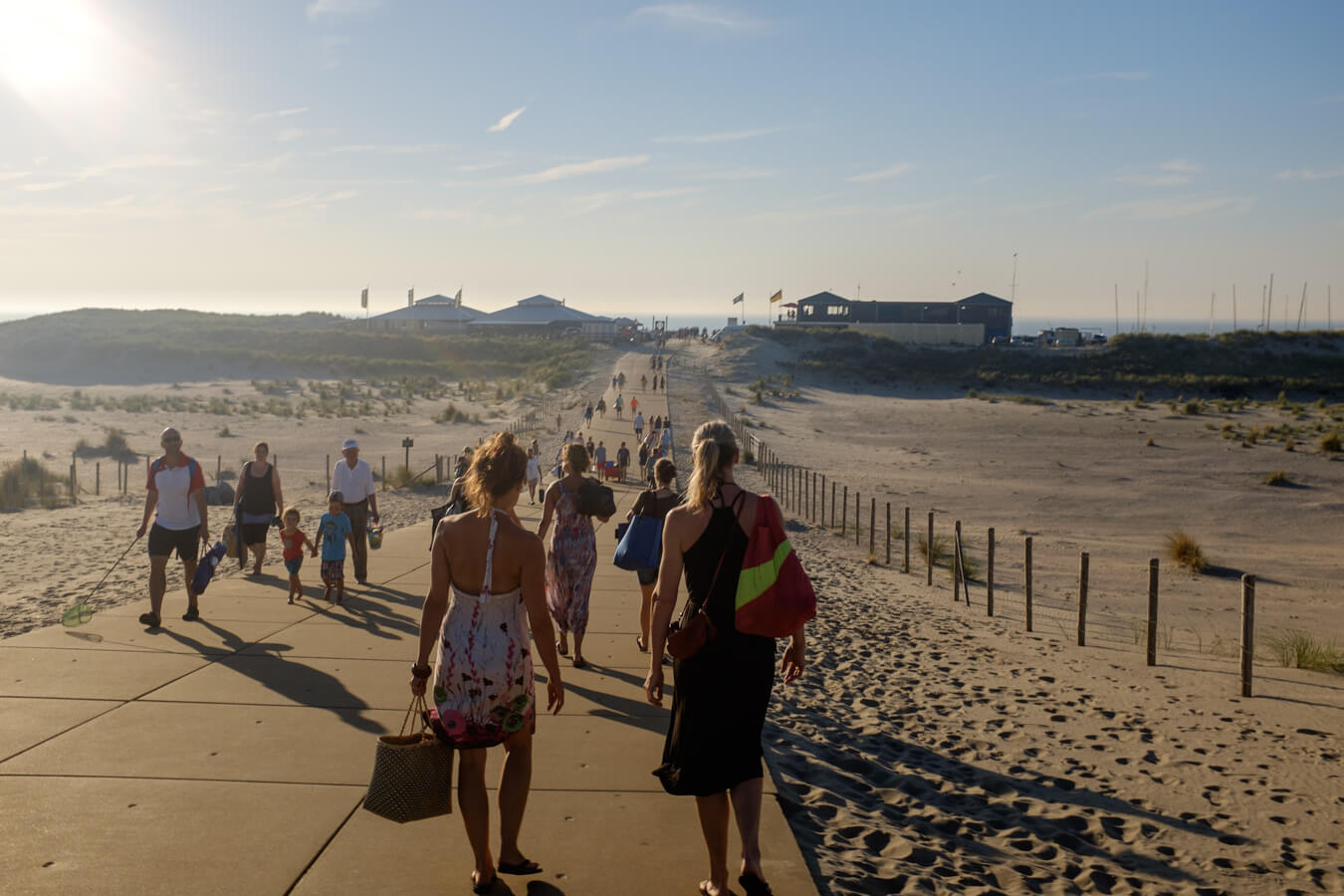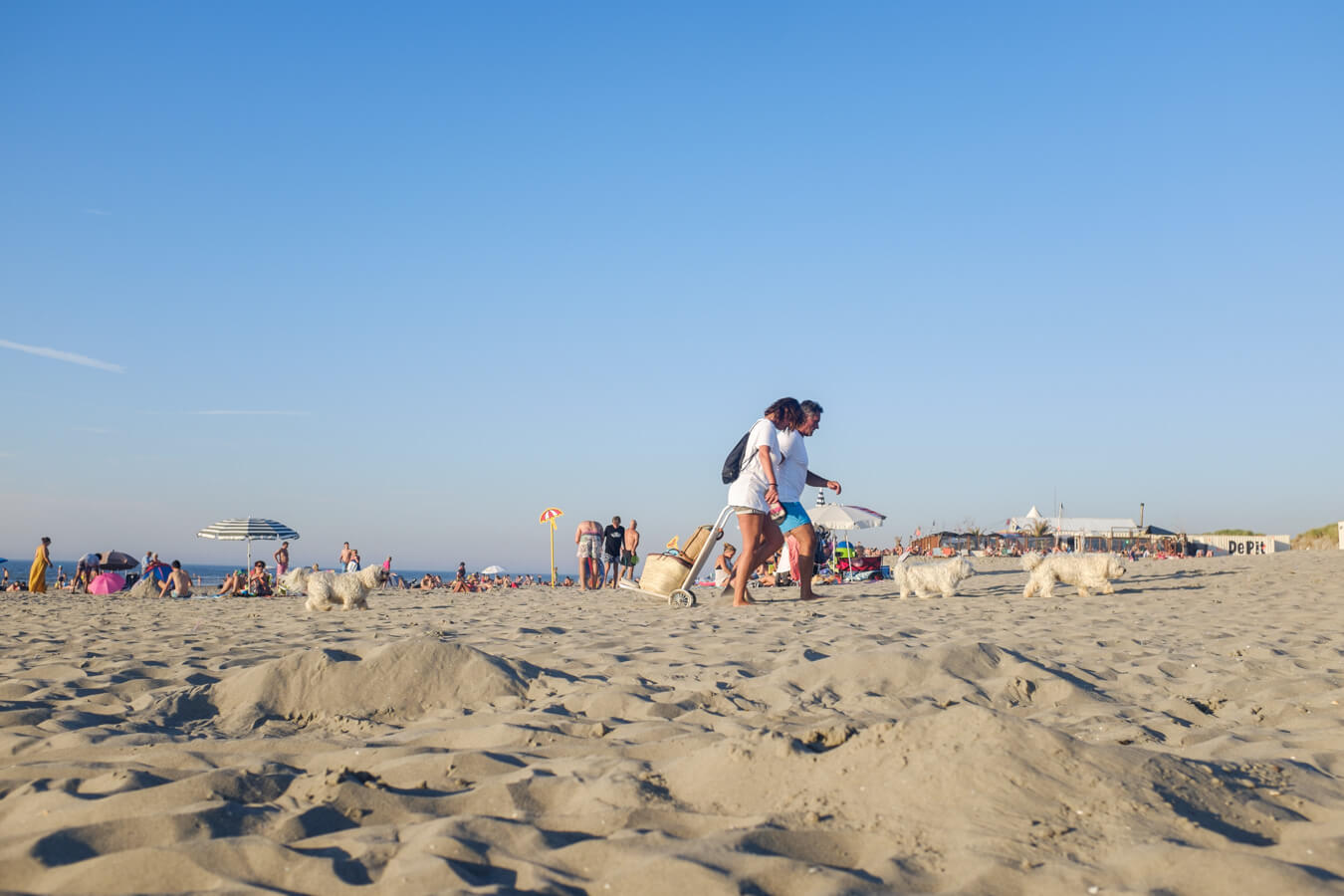 I skip dinner as I feel too tired and lazy to cook and instead eat two waffles and walk down to the beach half a mile away which is still full of people as the sun goes down. It's a beautiful evening. The last three days have been hot and sunny and clear and hopefully it continues. It probably won't and I should probably swim while I can but I feel too relaxed and clean from the shower and instead soak up some warmth from the sand.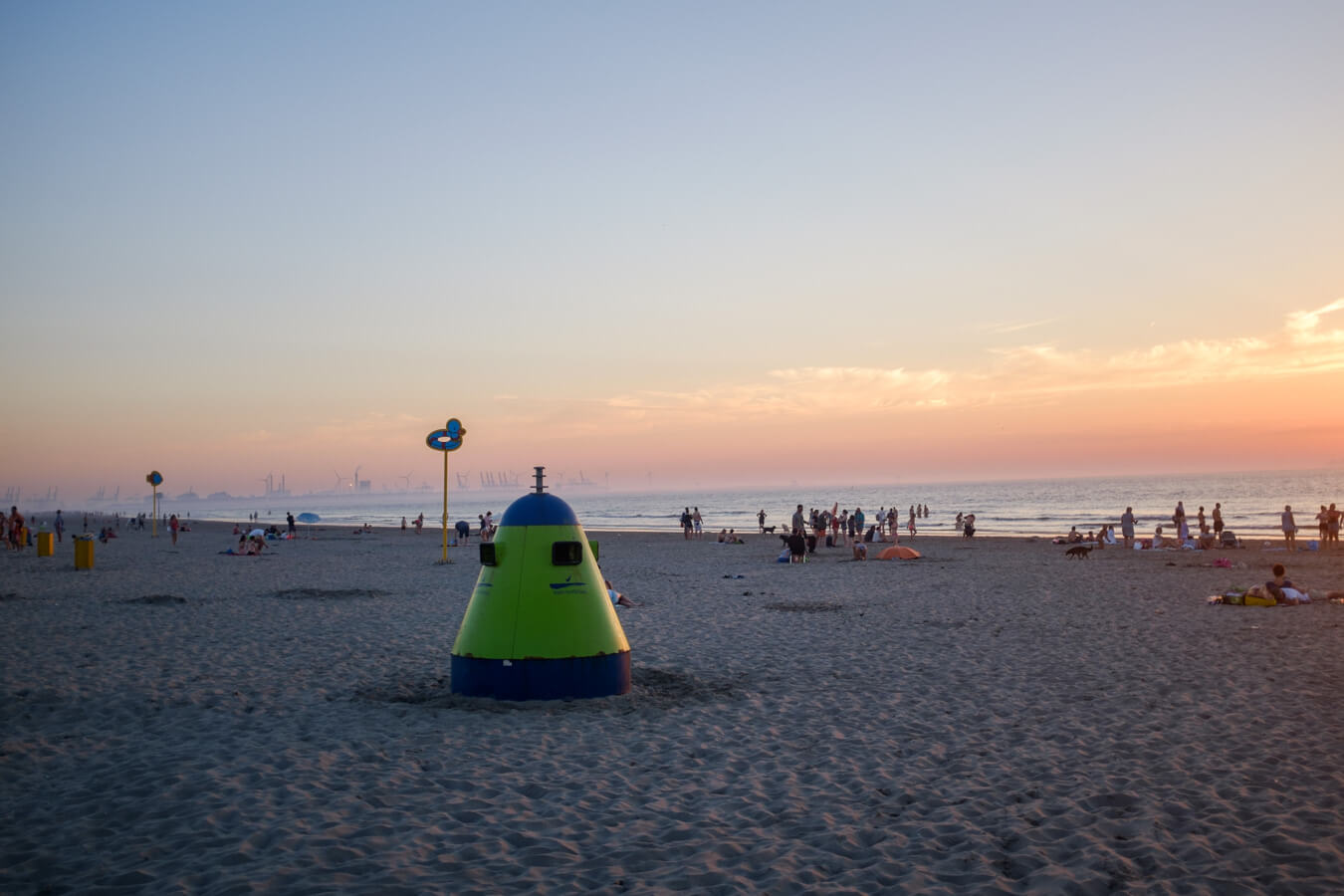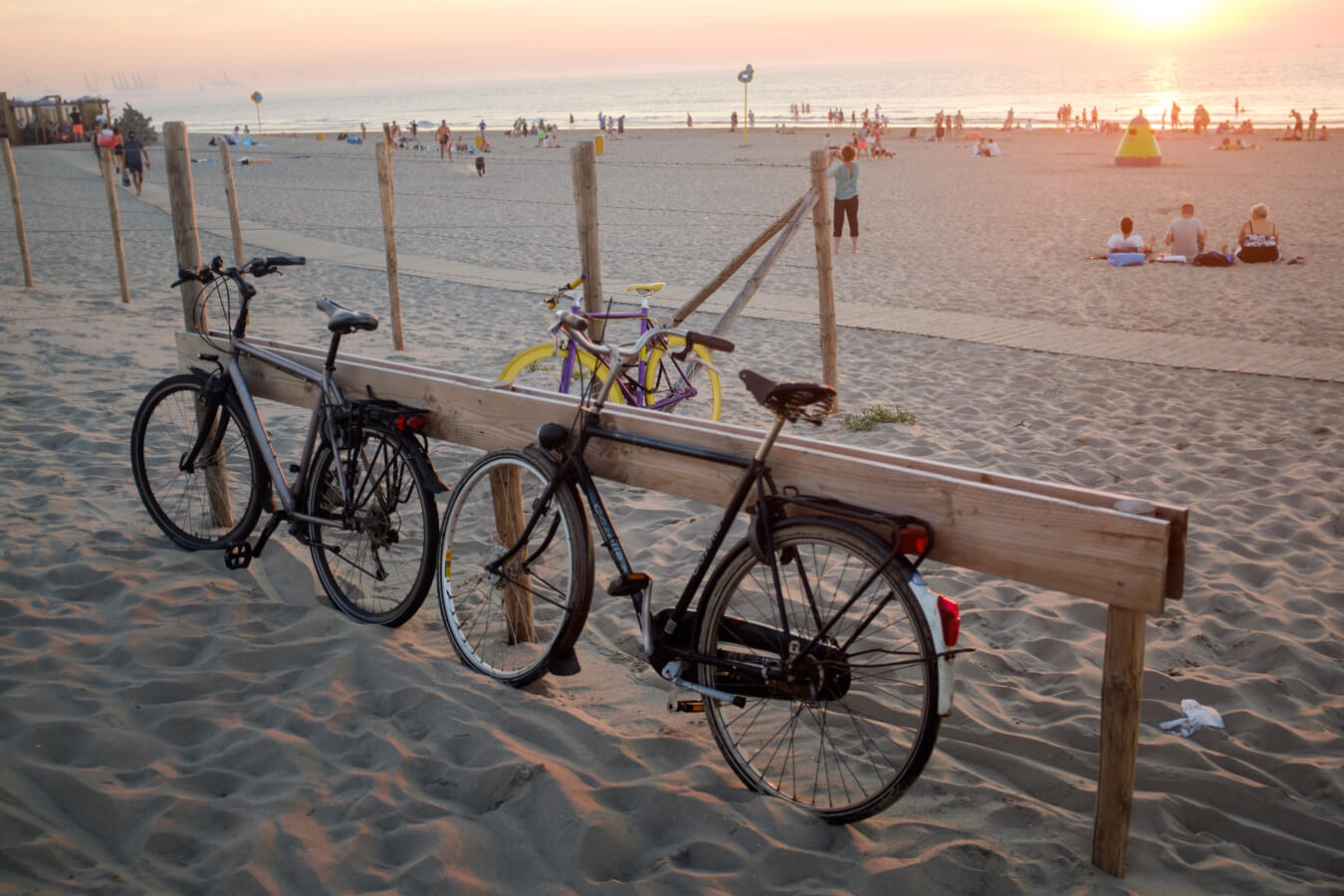 It doesn't feel bad for the first day back. Not great either. I feel quite a little indifferent to my surroundings and know that the time is right to head home as the threshold of what one person can enjoy, on their own, in one long sitting feels like it may have been reached. The bottom of my bank account certainly has.

Despite that It's hard to comprehend that I left England almost a year ago to the day, it's even harder to accept that i'm coming back. I'm hoping these next few days, more than providing me with some interesting cycling, will provide me with some acceptance of my soon to be less transient circumstances.
Map
0