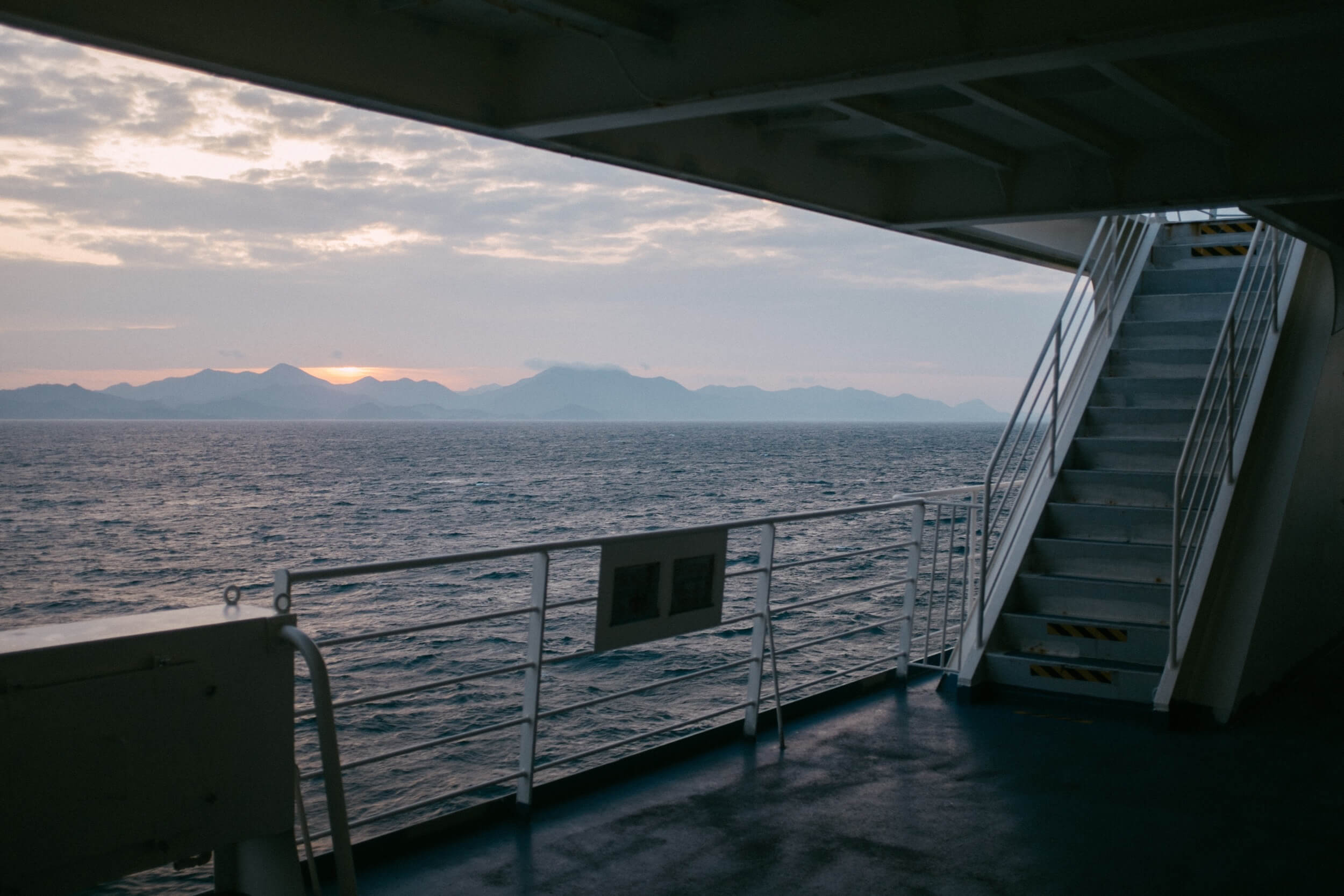 After a day and a half back in Busan I was on my way to the ferry terminal to get a boat to Japan. I packed and repacked, trying to get rid of as much as I could to make my panniers lighter. I washed then ditched some clothes and posted home a wad of postcards, ticket stubs, notes, and other bits and pieces i've accumulated over the last five or six months. It felt like a lot, but didn't seem to have made a huge difference once everything was packed up again. I'll see what else I can lose when I get to Tokyo.
I stocked up on some supplies from eMart. An American-sized shop selling everything from wetsuits to watermelons. An overwhelming place which made you feel like you needed things you didn't, the way Ikea does. I got out before I spent more money than I needed too.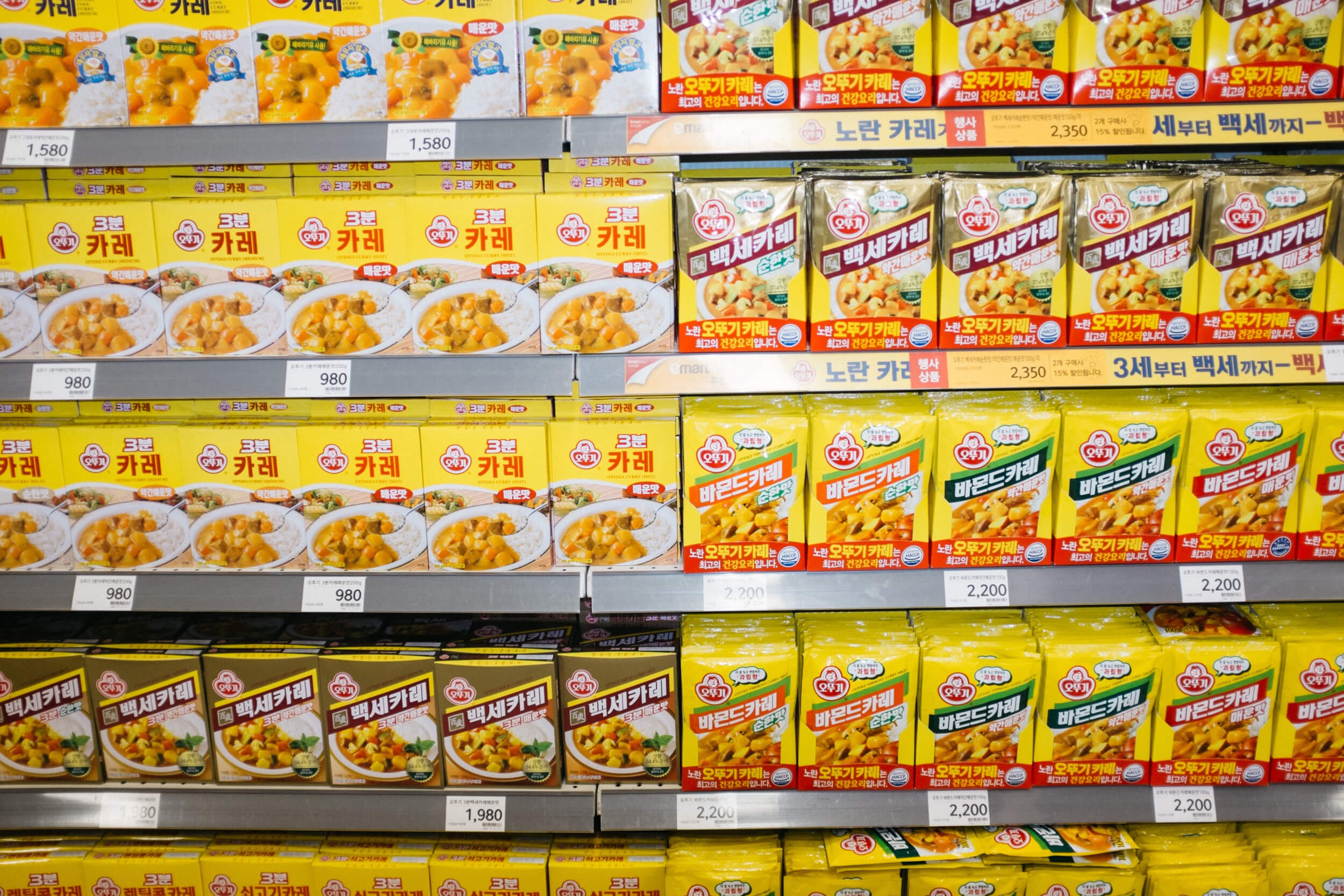 After dragging my bike through the subway system again I arrived at the ferry port. A large metallic building which must be relatively new. I bought a ticket and was soon checking on to the boat – three hours before it was due to leave at 9pm. I was able to wheel the bike right on to the deck of the boat alongside the other passengers, mostly older Koreans I think, a few Japanese businessmen.
The boat seemed grand at first, but the longer I spent on I began to notice small things, the wear and tear which gave away it's age. I was staying in a second class room. A slightly-padded floor shared with around seven other people, each with a sleeping matt which folded in three, a small rectangular leather pillow, a duvet, and a space to put your things.
I walked around a little. I had a pocket full of Korean coins but no way to use them as the vending machines only took Japanese Yen. I went out on deck as the boat slowly left the harbour, passing beneath the technicolour lights of one of the large bridges which connect up Busan. I didn't feel much apart from travel fatigue and slight sickness. I went back below deck and took advantage of the Japanese style bath down the hall from my room. The hot water was good for my legs.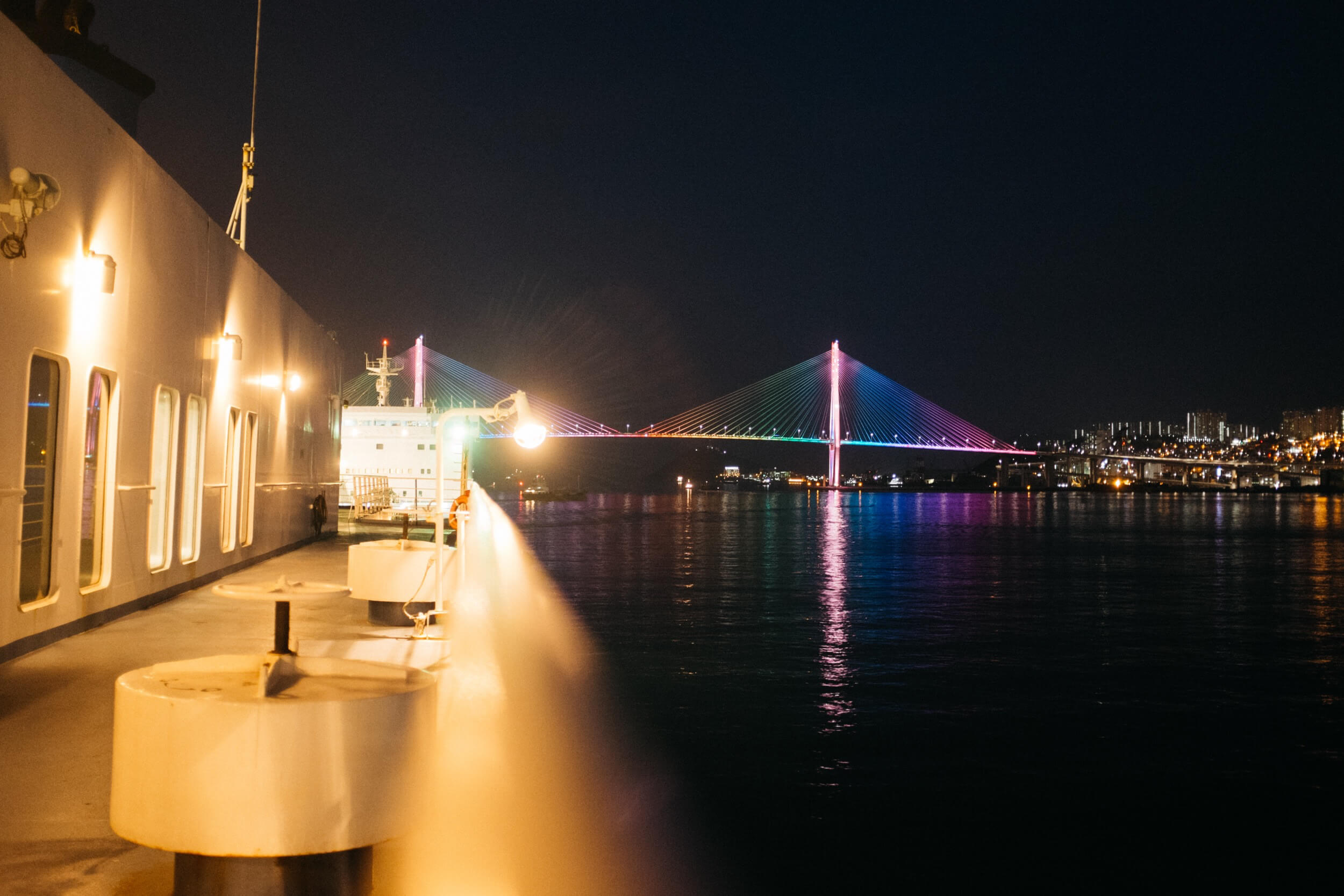 The lights came on in the room at around six, though I was already up and had managed to catch the tailend of sunrise from the deck. Disorientated, within an hour we docked at Shimonoseki. At customs my bike and gear was inspected closely and apologetically by a young officer. Someone prodded my tires and attached a sticker with some kind of stamp to my handlebars. My Fuji camera was well received: "Japanese camera!".
Through customs eventually I changed clothes and repacked again and headed out. I'd ordered a Japanese sim card on Amazon, delivered to a nearby Family Mart. I found the shop easily, and they found the package right away, but I didn't leave the shop for about 45 minutes. I needed to type two cryptic numbers into a computer kiosk in the corner of the shop. Apparently I didn't have either number, and I couldn't understand what the purpose of it was, since the package had my name on it. Eventually I was handed a phone and spoke to someone at Amazon Japan who instructed me to type the numbers in. Finally a receipt emerged. This was scanned, stamped, then the package handed to over. Me and the two shop attendants all smiled. I had come very close to taking the package and running, but didn't think i'd be able to jump on my bike quick enough for this to be effective. A fully loaded touring bike is not an agile getaway vehicle.
Next I went to a Starbucks (for the wi-fi, not the coffee) to sort out my sim card and make some travel arrangements. It started to rain and I stayed inside too long, eventually leaving after 1. The rain came and went to begin with, as I tried to find a way out of the city. Just as a I did the conditions became monsoon-like and didn't stop for about 3 hours. Quite quickly I became so wet that it wasn't possible for me to get any wetter. I was able to take some comfort in that but still found it hard to make much progress.
I stayed close to the waters edge, following the road out of the city. It was busy and water hit me from above and from the sides as lorries flew past. I managed to get away from the bigger roads to some quieter ones, and stopped at a supermarket, then a 7-11. I walked inside and an elevator-music version of Ob-La-Di, Ob-La-Da was playing. Then Raindrops Keep Falling On My Head. It was hard not to see some humour in the situation, despite being wet from my head to my toes and feeling like I was getting positively nowhere.
Some instant ramen warmed me up a little. I carried on. Fog clung to the tops of the forests which I began to head towards – still through rain, though it was easing slightly.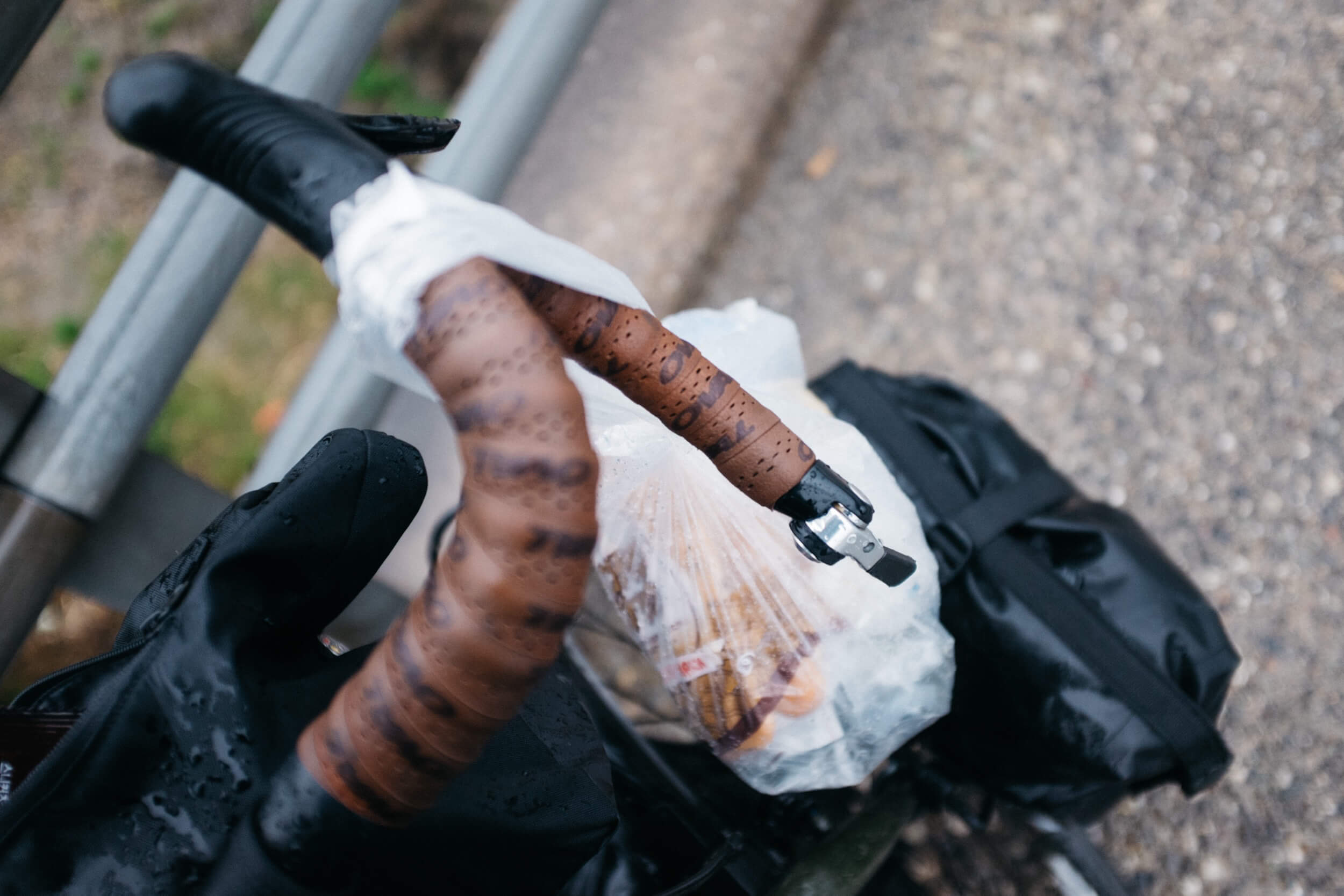 I cycled alongside another guy caught in it. We chatted for a little while as we cycled, he was Malaysian and working for Shimano, their factory apparently very close by.
We parted ways after cycling together for a while, I was tempted to camp but carried on for another hour, eventually making around 25 miles before finding a spot slightly away from the road to put up my tent. It had stopped raining now, but I was so wet I no longer mattered much.
I set an alarm for early in the morning and took off my wet layers. My sleeping bag too had got damp. Everything in my tent was soggy and annoying. I'd hope to make up the distance tomorrow, the forecast looked better, and hopefully i'd feel slightly less displaced in the familiar but new land I found myself in.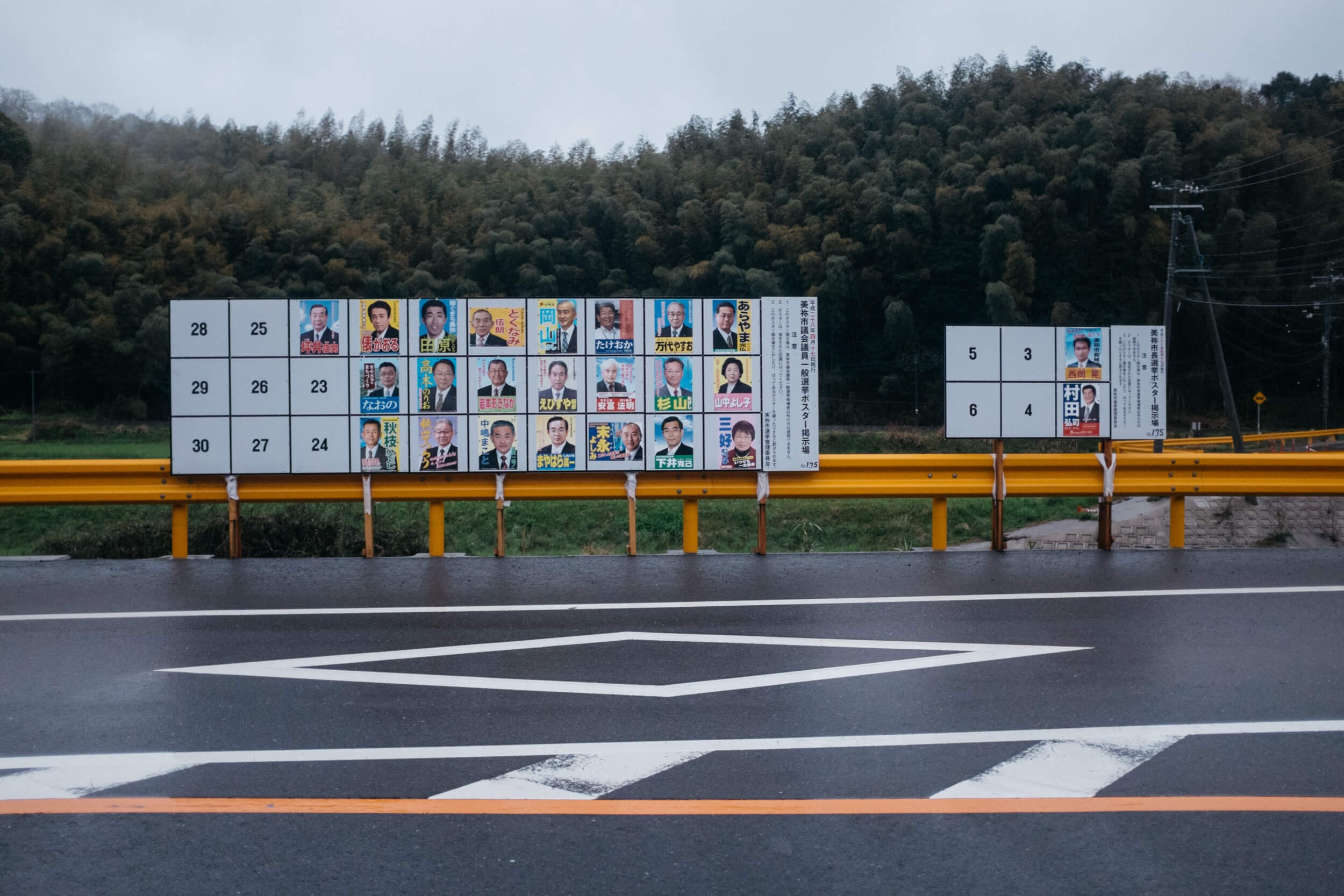 Playlist
Kurt Vile – Baby's Arms, Sun Kil Moon – Third And Seneca, Kings of Convenience – 24/25
Map (via Strava)
0